Nothing can beat the aroma of freshly grounded coffee beans. A cup of coffee tastes much fresher, stronger and better when brewed from freshly grounded coffee beans.
If you are coffee aficionados and yearn for the best cup of coffee, there's good news for you. You can have a coffee maker and grinder together. For this, you should surely try the best coffee maker that grinds beans.
Also, being able to grind your coffee beans and brewing the coffee from them is a great way to ensure that you are having your perfect cup of coffee. Having such a machine also saves space and time, since the machine can do both the work simultaneously.
With the increase in competition in delivering the best product, there are now different manufactures in the market with all kinds of models. This can create a bit of confusion for you to select the one that is ideal for you
Before buying a coffee maker that can grind beans, you must delve into the knowledge of the company and the model. This ensures that you end up buying a model that is ideal for your daily use and is light on your pocket too.
There are different types of coffee makers that include a manual or a hand-operated grinder, blade grinder and burr grinder although the best among all of these is the burr grinder.
Since the type and the performance of your coffee machine have a lot to do with how your cup of coffee will taste, it is, therefore, a good decision to select your coffee grinder wisely. Here I am going to tell you the features of some of the best coffee makers that grind.
1. KRUPS KM785D50 Grind and Brew with Builtin Burr Coffee Grinder 10-Cups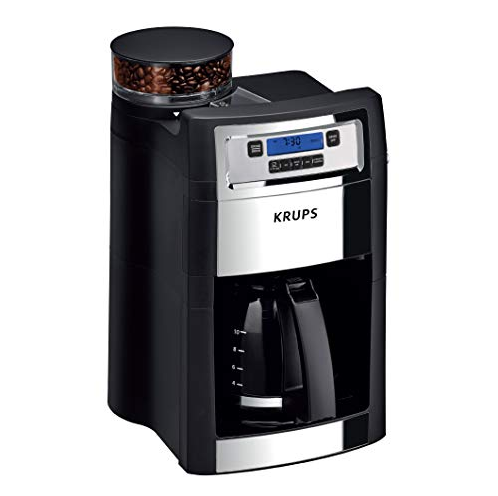 With a pleasing combination of some of the best features, the KRUPS KM785D50 is one of the best coffee makers that grind and brew.
This coffee grinder is capable of delivering you with ten cups of coffee by freshly grinding the coffee beans in its conical burr grinder. With its five grinding levels, this grinder gives you the sole opportunity to choose the grind size ranging from fine to coarse.
It also gives you the power to select your brew strength and comes with three strength options. These strength options range from mild, medium and strong
The grinder has a quite impressive and sleek body and comes with a great LCD which is large and easy to read. The control panel is highly intuitive and clear which makes it easy for you to perform the functions perfectly.
It also has a keep warm feature and comes with Thermo block technology. This makes it possible for you to enjoy a hot cup of coffee even after two hours of the actual brewing process.
With KRUPS you can easily pause your brewing process and can enjoy your cup of coffee in between the brewing session too. The precise pouring allows you to remove the carafe and pour yourself a cup of coffee at any time before the completion of the brewing process.
To redefine your family gatherings, this built-in Burr coffee grinder comes with an ability to brew 10 cups of freshly brewed coffee. The curved spout of the carafe allows you to pour a cup of coffee without making spills and mess.
The auto brew cycle of this coffee grinder allows you to schedule a brew cycle to start by itself on your preferred time so that you are never late for an early morning coffee. It also has an auto shut off, which saves energy.
The filter of this machine is a gold-tone removable filter. This removable filter makes your coffee-making experience easy and allows you to have ease in the cleaning of your filter so that you have the best cup of coffee every time you brew it.
If you are seeking a coffee grinder that is durable and is capable of functioning intelligently then there is no harm in investing in KRUPS.
Excelling and exceeding the coffee fanatics' expectations, KRUPS is undoubtedly the best coffee grinder for you.
2. Cuisinart DGB-550BKP1 Grind & Brew Automatic Coffeemaker 12 Cup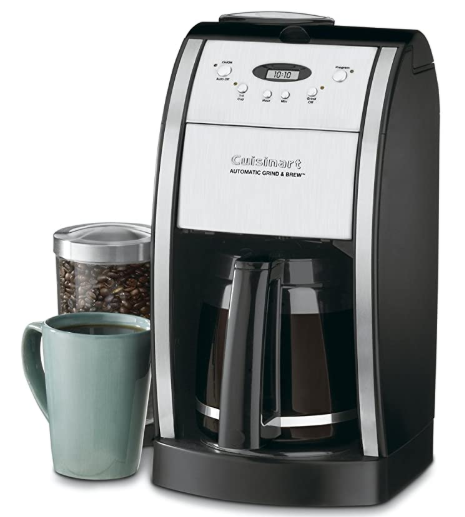 Brewing a cup of coffee is convenient and economical with Cuisinart. The promising features of this coffee grinder enable you to enjoy your freshly brewed coffee whenever you want. With the aspect of aesthetics, it is a great product for you.
With its small size and compact body, it takes up a relatively smaller area on your kitchen counter or at your workplace.
It is a deluxe model that is capable of brewing 12 cups of freshly brewed coffee because of its separated grinder chamber. Since the grinder can be separated, it can be easily rinsed and washed providing you with an unprecedented cup of coffee.
The grinder mode can also be switched off in case you wanted to use the pre-ground coffee beans to make your coffee.
This model of Cuisinart comes with two filters namely, the charcoal water filter and the permanent gold-tone coffee filter.
The charcoal filter purifies the water thereby making it free from the contaminants and impurities that may hinder the taste of your coffee while the gold-tone coffee filter is the normal filter.
With its 24 hours programming ability, you can pre-set the schedule of your coffee brewing process so that you wake up to the aroma of your best cup of coffee. This makes it quite convenient and user friendly too.
Also, the auto shut off feature allows you to turn off the coffee maker after 4 hours of the brewing process.
The carafe can brew 12 cups and comes with an ergonomic handle, a spot that ensures there is no spilling and a knuckle guard. Check the best coffee makers with a carafe to know more about the features of a good carafe.
It also comes with a brew-pause function which means that you don't have to wait for the entire brewing process to finish and can have your cup of coffee in between the brewing session by simply pressing the button.
Without doubts, this may be one of the best machines with coffee bean grinding.
3. Capresso 465 CoffeeTeam TS 10-Cup Digital Coffeemaker with Conical Burr Grinder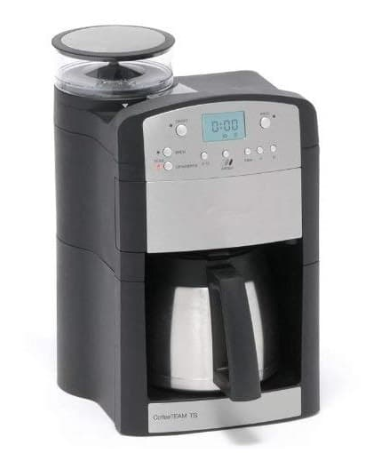 Capresso is an ideal coffee grinder for all coffee lovers. It is an automatic machine that grinds the beans and brews a fresh cup of coffee for you.
Since freshly ground beans make for a much smoother and stronger brew, this coffee maker grinds the bean present in its hopper and gives you the best coffee. It is one of the best coffee makers with a built-in grinder.
With a durable body made of stainless steel, this machine is capable of brewing ten cups of coffee
With a minimum noise, the built-in burr type grinder of this coffee machine delivers you with freshly grounded beans. Although the size of the hopper is fairly small it can grind a good amount of beans for you.
This coffee grinder is programmable. It comes with auto-set programming so you get up to the aroma of your freshly brewed coffee. The grind size and the brew strength can also be automatically programmed into the system of the machine.
To ensure the proper functioning of this system, just make sure that your hopper and water reservoir are full and get ready to be spoiled since this machine will do the rest of the task for you.
It provides you to select the brew volume ranging from cups to ten cups. By inserting the brew volume you let the machine decide the load of beans to grind and the water to be used so you don't have to decide it by yourself.
The brew strength selector gives you three options to select from; mild, medium and strong. So you have a variety of strengths to choose from when you don't feel like having your regular cup of coffee.
Also, the grinder comes with five settings giving you the grind size range from very coarse to a very fine size. The cleaning of this grinder is also easy. The same goes for the cleaning of its gold-tone filter which requires emptying the content and rinsing with warm water.
With all these features, this coffee grinder comes in a fair range and is affordable for many. Thus, it is loved by the users.
4. BLACK+DECKER 12-Cup Mill and Brew Coffeemaker CM5000B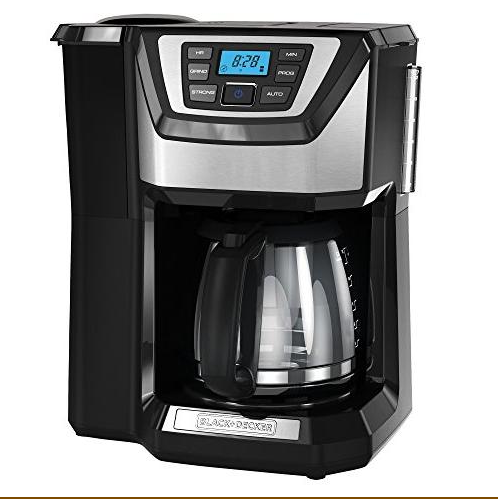 The black and Decker mill and brew coffee maker comes with the power of turning your favorite whole coffee beans into a satisfying cup of coffee with its powerful built-in grinder.
The control panel comes with quick-touch technology making operating and programming of the machine easier for you. The programming panel lets you control the; brew strength, timing and also has an auto brew feature.
The auto brew feature allows you to program your brewing session pre hand so you are ready with your cup of coffee and time any day that you want without waiting to enter the programming.
The body of this coffee grinder is smooth and compact which makes it an ideal coffee grinder that can be used at work or home.
The Dura life glass carafe of this mill and brew coffee maker is capable of brewing 12 cups of coffee. The carafe has a clear view window making it easier for you to check for the measurements. The carafe of this coffee maker has non-stick carafe plates that keep the coffee hot for a longer period.
The filter of this coffee maker is the bronze tone filter. This bronze tone filter is permanent and removes the need for attaching the paper filters every time. The filter and grinder are both washable and can be easily washed for the optimum performance of the coffee maker.
This machine also comes with the sneak a cup feature. These features allow you to pause your brewing process in between to have your cup of coffee without disturbing the brew cycle and waiting for long.
The Black and Decker mill and brew comes in a very budget family window and can be accessed with ease and with its user-friendly programming options it is easier for you to operate it anywhere that you want.
5. Breville BDC650BSS Grind Control Coffee Maker Brushed Stainless Steel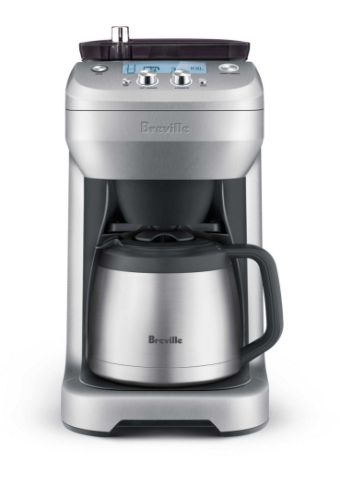 This coffee maker comes with an innovative built-in grinder to ground the coffee beans and captures the freshness and essential oils from the coffee beans to yield for you the best cup of coffee. It's a coffee maker that grinds beans and brew.
With the steep and release technology, this coffee maker grinds the beans just before brewing.
The Breville grind control system also gives you the chance to choose from the carafe, travel size mug or tall mugs.
The machine comes with a programmable system so it's ideal if you don't want to move about again and again to check for your coffee. For this, you just need to set the time and this monster will perform the task by itself.
The LCD is clear and concise and shows some extraordinary features such as grind setting, grind time and several cups or the brew size. It also lets you control the water temperature, pre-soak time and rate of flow.
The machine is a bit expensive but it can deliver the brew at a robotic speed. It has a heating system encased in a tower present at the left side of its body along with the other supporting electronics of the machine. A clear water reservoir made up of plastic is presented just above the tower.
On the base of the machine is the precision thermal carafe. A big size filter basket is present above the carafe. The filter basket of this coffee maker is of great size which enables you to insert cone size filter paper to it or if you want flat bottom style filters you can add them too.
The machine itself comes with a flat bottomed permanent metallic filter. At the side of the water tank, you are provided with the clear and easy to read water markings.
This machine may look like an ordinary drip machine but it's a precision brewer. With six brewing modes (fast, gold, strong, over ice, my brew, and cold brew) it lets you make the perfect cup of coffee.
6. Cuisinart DGB-650BC Grind-and-Brew Thermal 10-Cup Automatic Coffeemaker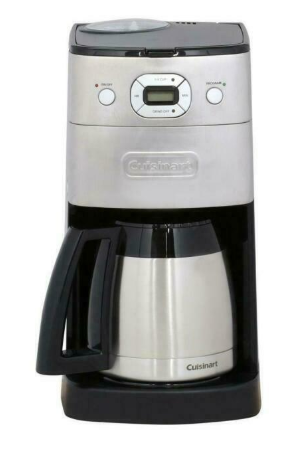 The Cuisinart Grind and brew coffee machine are coffee makers with grinder. It makes you able to automate the complete coffee brewing process for you. It is capable of producing a medium-sized grind every time you brew. With a medium-sized grind, there is less need for cleaning the filter of the machine since there is less chance of clogging.
If you are a person who longs for a strong cup of coffee, you can use the pre-ground beans. If you want a mild cup of coffee you can make use of the brew-pause feature.
The brew-pause feature lets you have your cup of coffee in between the brewing session so you can have your cup of coffee according to your taste before the finishing of the brew cycle.
It comes with a gold cone filter. The filter is dishwasher safe. It also has a charcoal filter for water purification. Purified water means no contaminants to destroy the taste of your coffee.
It also comes with automatic programming so you don't have to waste your time in the morning making your coffee. The 24 hours programmable system makes it easier for you to achieve this. The auto shut makes sure there is no loss of energy and the occurrence of accidents. It also extends the life of machines.
The carafe is double-walled that keeps the coffee hot for long and has a capacity of brewing 10 cups. An easy pour spout prevents the chances of spilling while brewing and using the pause and brew feature.
With easy to operate features that can be customized by you and a removable grinder and filter chamber it's easier for you to clean the machine.
7. DELONGHI ESAM3300 Super-Automatic Espresso/Coffee Machine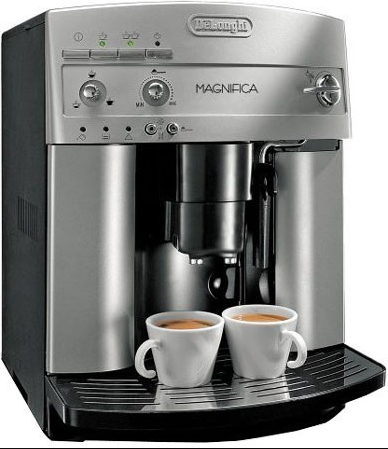 This coffee machine comes with the essential features only so there is no need of getting in the hustle of knowing each function and its operation. The machine does not come with an LCD and is the least expensive model.
The spout of this machine that delivers you the coffee comes with an adjustable length. It goes up until you reach 11 centimeters and go down to 3 centimeters.
The brewing unit of the machine is removable so it can be cleaned thoroughly with every use. Also, a removable unit means it's easier to change or replace it in any case, the unit breaks.
The grinder is a burr type. It is conical and comes with 7 settings altogether. These settings allow you to select the best grind size of your beans.
The drip tray of the machine comes with a red floating gauge that indicates the water level. You must clean the drip tray with every use. Since it is removable it can be washed with ease.
The machine has automatic programming. It will brew you a cup of coffee first thing in the morning without you entering the programming. Program the machine beforehand and set the timer to ensure that you have your hot coffee first thing in the morning.
A warning light present at the front of the machine is there to warm you when the machine needs cleaning. Although it is not necessary to wait for it to light and always better to wash your coffee maker parts.
It also comes with a water hardness test strip. Hard water with impurities will alter the change of your coffee. If your machine needs descaling, you will be notified via the warning light.
As the machine comes with all the essential features and is pocket friendly you can easily purchase it. It is the best machine with coffee bean grinding.
8. Jura 15106 ENA Micro 5 Automatic Coffee Machine Silver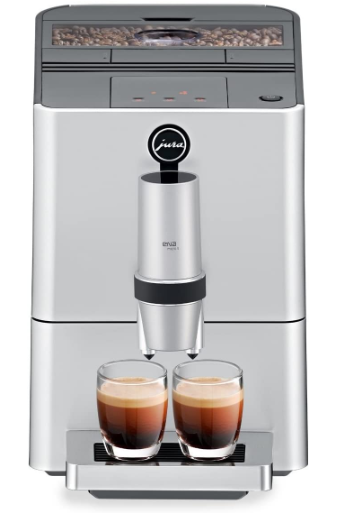 If you want a pampered life and want to enjoy a luxurious cup of coffee in your bed just go for Jura. All their machines are fully automatic. This model from Jura allows you to grind your beans and brew with a single push of a button making it a coffee maker that grinds and brew.
With all the modern aesthetics, the body of this machine is compact and designed to occupy as little space as possible. This makes it an ideal coffee maker for your office or home.
It allows you to customize your cup by giving you the power to decide all the essentials of coffee making.
The machine comes with dual spouts so you don't have to fight for priority. The double spouts allow you to have two cups of coffee simultaneously with just a swivel of the spout. Since the spouts are movable, you can place any of the cups of your coffee be it a large travel size mug or a regular coffee mug.
The compact body of this body does not hinder the capacity of its water reservoir. The water tank has a capacity of 1.1-liter water. The tank comes with a built-in filter. The filter makes sure you have the best taste of coffee every time you brew.
The burr type coffee grinder is built-in which gets activated with a push of a button. The grinder comes with an airtight lid at the top of the hopper. The lid keeps the bean fresh and aromatic for a long time
It has three brew options, espresso, ristretto and coffee and allows you to select your brew strength. It also has a zero-energy switch that turns on when the machine is on stand by and switches off the machine thereby saving energy.
With a minimalist design, Jura is capable of giving you the best coffee experience of your life.
9. Breville the Barista Express Espresso Machine BES870XL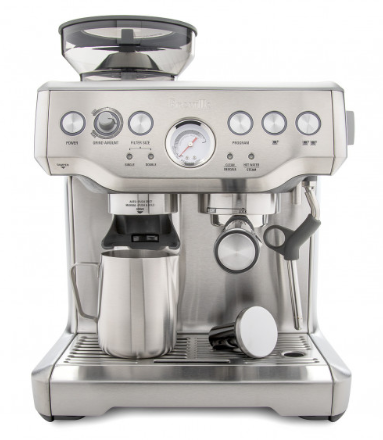 Breville is a known manufacturer of some of the great burr grinders. Being a semi-automatic coffee grinder, this model from Breville is a hog of a machine that dominates wherever you keep it and gives you the best espresso shot.
The exterior of this machine is made of stainless steel which makes it durable and last for long. It also comes with a year warranty and also a steam wand to create the froth. Since it comes with different parts, you must read the manual before operating it.
The grinding, tamping and extracting takes about only three minutes to give you your espresso shot. The interchangeable filters ensure you have an authentic cafe-style coffee.
The hopper has a capacity of holding half a pound of coffee beans. Moreover, it comes with 4 filter baskets as a pasteurized and unpasteurized form of single and double-walled. A stainless steel conical burr of this machine comes with 16 grind settings to give you the desired size and fine-tune it.
The digital temperature controls and maintains the water temperature ensuring an optimal espresso extraction. The portafilters ensure proper filtration.
The machine lets you customize your cup by leaving it on you to adjust the grind size, grind amount and the temp so that you get the perfect taste of your coffee. The tamper is also detachable which means you have control over the power of pressure used to ground the seeds.
It is necessary to wash the machine after every use, especially the portafilter and the basket.
In short, Breville is an affordable machine that gives you high-end espresso at your home. Apart from espresso, you can also yield drinks like macchiato, cappuccino, latte and much more. Comparing to the top leading manufacturers it comes quite in a fair range and is a big hit for your home.
Final Words
With a variety of models of best coffee makers that grind beans available in the market, it may not be an easy task for you to go for the best one. Of course, many come in stylish and sleek bodies but what matters the most is their mode of mechanism and the price. A cheap product is not always an average product. Similarly, an expensive one is not always perfect.
If you want to have a happy caffeinated session with yourself, family or friends, try considering the features of the coffee maker that are stated above. If you want to have a coffee maker for your office setup, check the best coffee makers for a small office.
There is no doubt that these are some of the best beans grinding machines that won't disappoint you and your taste buds too. Have a nice day!