Are you a coffee lover like me and are in search of the best coffee maker under your budget with the best features? Then you are in the right place. In this article, you will get the best coffee maker under $200.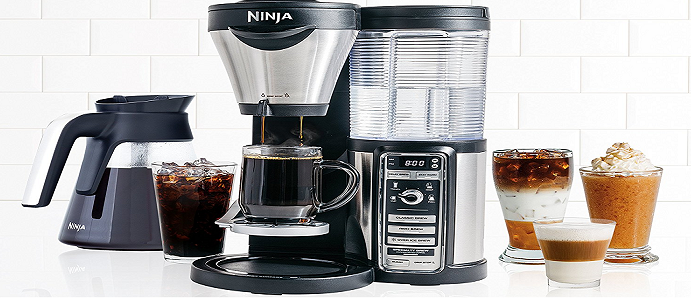 Anyone who starts their day with a cup of coffee knows how important it is to have a good coffee maker at home.
Whether you are a fan of cappuccino, macchiato, espresso, mocha, latte or just plain-old filter coffee, only the best coffee makers will make you the coffee you want time after time. Finding the coffee maker with the best features under $200 is quite challenging. But, do not worry I have got the solution for you.
I have gone through the internet and reviewed the best coffee makers under $200 to make your life a little less worried. They all are affordable and there is no need to break the bank to find a quality coffee maker for your home. And you will have no trouble finding an affordable coffee machine in this list that works for you.
I have prepared a list of detailed reviews of each of our recommended coffee machines under $200, so that you can get to know them inside and out before you buy. That way, you will be able to get the product that is just right for you.
Let's check out the products!
1.OXO BREW 9 Cup Coffee Maker Under 200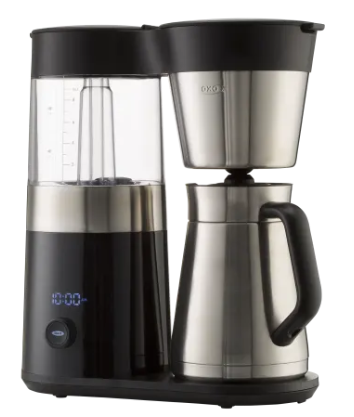 This maker is for those people who prefer pour-over–quality coffee but their convenience is one single button machine so I suggest the OXO Brew 9 Cup Coffee Maker to them. It is one of the coffee makers that met the official Gold Cup Standard and was accepted by the Specialty Coffee Associations of America (SCAA).
This Coffee Maker comes with a ton of features and is one of the best coffee makers under $200. Its small microprocessor keeps an eye on time, temperature, and volume from start to finish and provides you the barista-quality precision of hand-made coffee at the single touch of a button.
Some of its features are as below:
Intuitive LED interface has a backlit screen that displays the coffee machine status
Comes with a freshness indicator
Double-walled carafe
With 24 hours timer, it features a single dial to brew several cups a time
Comes with a coffee scoop and 10 filter papers
Rainmaker shower to evenly disperses water over coffee grounds
Size and appearance
OXO BREW coffee machine has a handsome appearance that comes with a well-made thermal stainless steel carafe that pours easily and keeps coffee warm for hours. And it has a cool digital display integrated into the glossy black plastic housing that gives this coffee maker a modern look. Moreover, the size of this machine is a little tall and measures 17.2 inches which are not ideal for small kitchens.
Capacity
The Oxo Barista Brain is a 9-cup coffee maker that means nine 5-oz cups at a time. It has a large water reservoir. Also, this coffee machine allows you to choose between brewing 2-4 cups or 5-9 cups, using the picker dial and Oxo button.
2.Klarstein Passionata Espresso Machine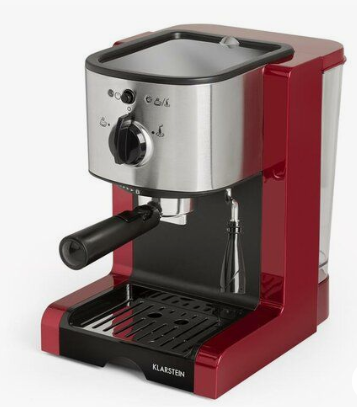 Another best espresso machine under 200$ is Klarstein Passionata Espresso Machine. It is a beautiful addition to any kitchen. It comes with all the great features one would expect from an espresso maker, such as a steam frother for foaming milk.
With the practical design, the operation of this coffee machine is quite well. Moreover, this machine is super easy to clean and maintain. Some of the prominent features of this espresso machine are defined below:
The removable stainless mesh drip tray
Removable water tank
Steaming nozzle
Can brew a variety of coffee
frother for foaming milk
This espresso maker comes with the steaming nozzle that allows high powered milk foaming for several drinks from cappuccino to macchiato. And the easy adjustment of the nozzle permits you to prepare milk according to your preferences.
Moreover, Klarstein Passionata Espresso Machine's intuitive construction allows you to brew fast. With a considerable 1350 watts of power and 20 bar pressure, it presses warm water through the ground coffee beans, unleashing their full aroma.
Size and appearance
This coffee machine lends any kitchen or office space a little something extra with a stylish look. Its elegant design fits easily into any kitchen and lures you into wanting an espresso. Moreover, it features stainless steel elements and colorful accents that make this coffee maker look great anywhere.
Capacity
Klarstein Passionate Espresso Machine features a large removable water tank. It can hold a capacity of 1.3 qt. – enough water for 6 cups of coffee and keep everyone happy and caffeinated without the struggle of refilling.
3.Mr. Coffee Espresso and Cappuccino Maker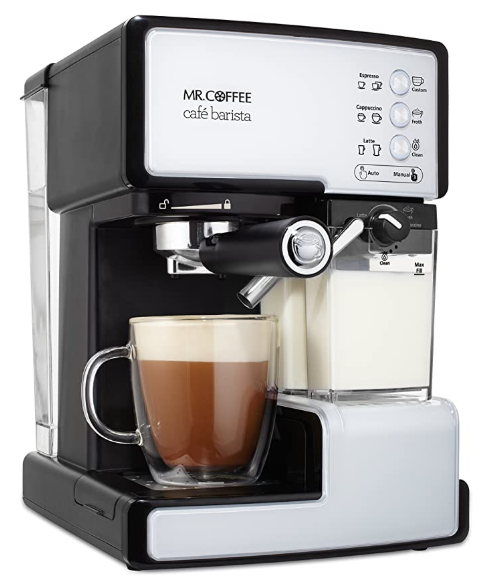 If you are looking for the easy to operate best coffee maker within $200 then this product is for you. It is 3 in 1 coffee maker and with just a touch of a button, you will have the best espresso, cappuccino, and latte. It can brew a rich flavor coffee from almost any bean and grind. Moreover, its milk reservoir will automatically mix a cappuccino or latte at a single touch.
Some of the important features of this coffee maker are given below:
Single touch control panel for drink selections
Semi-automatic 3 in 1 coffee maker
Easy fill, removable water, and milk reservoir
Hassle-free automatic milk Frother
15 bar pump system for brewing rich-tasting espresso coffee
Includes 1 ceramic espresso cup
This espresso maker comes with a Steam Heat system for extracting a strong flavorful brew and a milk Frother for making creamy cappuccinos and lattes at a single touch. With just one press of a button, the machine will steam and froth the milk and then dispense espresso, all without user intervention.
As we all know Mr. Coffee is best known for its build quality, so this machine is durable.
Size and appearance
Mr. Coffee has an elegant look and it comes with small footprints. This coffee maker is constructed to sit nicely on any flat surface, such as a kitchen slab or counter-top. Moreover, it is compactly designed and measures 12. 6 inches tall and 12 inches wide and allows you to take anywhere with you.
Capacity
With generous size water reservoir that can preserve up to 52 ounces of liquid Mr. Coffee Steam Semi-Automatic Espresso and Cappuccino maker can brew up to 4 shots of flavorful espresso.
4.DeLonghi EC702 Espresso Maker Under 200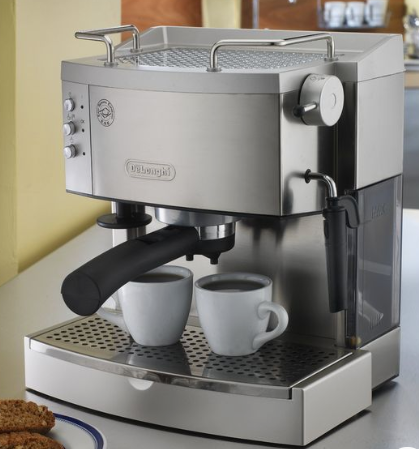 The De'Longhi EC702 is an easy to operate espresso maker with good technical support for all the functions vital to great espresso. This espresso machine is designed to permit you the freedom to control things like pressure and water temperature, without the hassle of having to mess around with the basic functions of the machine. Some of its features are as follow:
Two separate thermostats
15 bar pump pressure
The dual-function filter holder
Stainless steel boiler
1.3-liter removable tank
Automatic self-primes operation and water level indicator
It is one of the best coffee makers under $200 that easily make latte and cappuccino with the patented cappuccino frother system. It prepares the best quality coffee every time. Also, it mixes steam and milk to make a flavorful, creamy froth for perfect espresso every time. The patented milk frother attached to this coffee maker is a standard, efficient tool for steaming and frothing milk.
One of the best things about this machine is its consistent thermo-block heating mechanism and optimization for brewing more than once with every use and allows you to have a good espresso cup after cup.
This espresso maker allows you to program a few of its features, including the pressure so, that you can rest easy with the default settings. Moreover, this machine is ESE pod compatible that means you can easily pop in an espresso pod if you do not have time to grind your beans in the morning.
Size and appearance
The appearance and design of this machine are attractive as well as practical. It measures 11.6 inches and weighs 11.5 pounds which is perfect for small kitchens.
Capacity
De'Longhi EC702 espresso maker comes with 44 ounces and 1.3-liter removable water tanks that are perfect for those who want cup after cup.
5.Breville ESP8XL Stainless Espresso Maker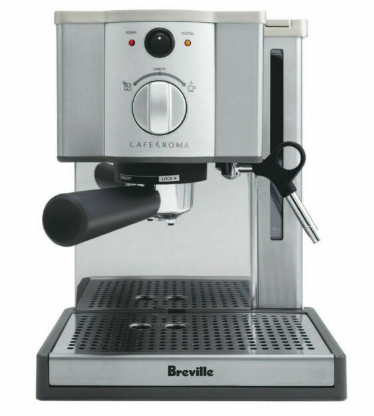 Breville ESP8XL Cafe Roma Stainless Espresso Maker is the one that is both durable and consistent and lists under the great coffee maker under 200$. This machine comes with everything the home barista requires to craft café quality beverages. Moreover, it is very easy to use so that even beginners can be pulled smooth shots of espresso with thick layers of crema.
Some of its features are:
15 bar pump system and thermo-block system or temperature
Constructed with Stainless steel for durability
Removable tray and grid for easy cleaning
Comes with dual-wall filter for making the thick cream
The warming tray, which is included to heat up to 6 Espresso cups
The maintenance of this espresso maker is hassle-free and also it is super easy to clean. Moreover, this espresso maker comes with a steam rod that does not only permit you to make good frothing for your coffee but it also acts as a coffee machine.
Size and appearance
Breville ESP8XL is a smart-looking coffee maker. It is constructed entirely from stainless steel so it will look great in any kitchen counter or office space. The coffee maker is an excellent compact size and measures 9 x 9 x 12 inches and weighs 13 pounds.
Capacity
This espresso maker comes with an inbuilt 40.6 oz water tank. The size of the water reservoir is perfect compared to the size of the machine, and it allows you to enjoy a great few cups of coffee before it needs refilling.
6.Brewsly 15 Bar Professional Pressure Espresso Machine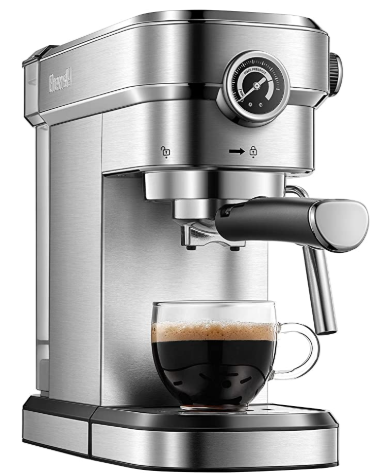 Brewsly 15 Bar Espresso Machine is another best espresso machine under 200 dollars in the list. This machine uses professional technology to brew authentic rich coffee, just like your home coffee house. Also, it has 15-bar professional pressure that is the standard pressure to brew flavorful strong tasting espresso to ensure the best coffee flavors every time.
Some of its main features are:
15 bar professional pressure
Dual temperature control
Comes with an adjustable milk Frother
2-in-1 filter holder to deliver 1 or 2 shots
Brewsly 15 Bar Espresso Machine has a modifiable milk Frother that lets you regulate the foam and steam levels to modify a variety of delicious espresso-based coffee, dryer foam for cappuccino and microfoam for a latte. Moreover, the visual pressure gauge and adjustable controls permit you to prepare coffee for your taste preferences.
This espresso maker comes with the temperature control to adjust the temperature of the water and milk foam separately to let the taste of coffee reach the ideal state, and the milk foam remains rich and creamy. And the dual filter holder automatically delivers 1 or 2 shots to produce the exact amount of espresso you desire.
It also has a dual drip tray which is easy to remove to fit taller cups, such as latte glasses.
Size and appearance
Brewsly Espresso Machine is made up of a stainless body that makes it strong and durable. It is 6 inches wide compact construction that takes up half the space of another espresso machine.
Capacity
This machine is large enough to fit porta-filters and it has a large water tank.
7.Nespresso by De'Longhi ENV135B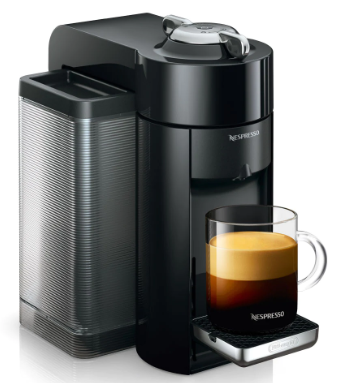 Like all Nespresso products, this coffee maker offers an immensely simplified way to make your morning coffee. This will be the perfect choice for those who want to have some straight espresso, some more delicious drinks along with milk, and some regular coffee.
Here I am going to tell you some of the finest features of this machine.
Large and small capsule sizes that allow you to switch between espresso drinks and regular coffee.
Convenient buttons for two cup sizes
Automatic capsule for automatically adjusts brewing settings
Extra-large water tank
Quick heat-up time reaches the ideal temperature in just 15 to 20 seconds
Offers Energy-saving mode that robotically switches off the machine after 9 minutes
It takes 15 to 20 minutes for the machine to heat water to the ideal temperature and prepares a rich cup of espresso. This machine uses Grand Cru capsules to prepare 4 genuine espressos and 10 fresh brewed coffees, with several pod sizes.
The VertuoLine uses modern Centrifusion technology that blends the ground coffee with hot water at as many as 7,000 rotations per minute to make flawless crema.
Size and appearance
It has an elegant design and stylish look and performs the best in high volume homes or even office spaces. As compared to other coffee machines in the list this coffee maker takes little more space as it is large and has big footprints. It fits best in large space kitchen counters.
Capacity
It comes with an extra-large water tank with a 13 to20 capsule capacity and a 54 oz water reservoir.
8.Hamilton Beach Espresso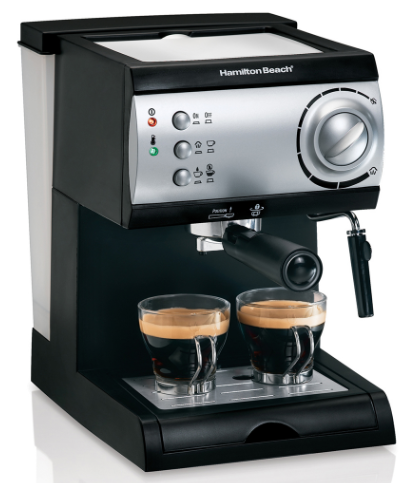 Hamilton Beach Espresso is one of the best coffee makers within $200. It delivers café quality coffee and produces delicious rich coffee every time. This coffee machine allows you to brew grounded coffee and gives the best rich coffee at every attempt.
Some of its great features are given below:
15 bar Italian pressure pump for great extraction and rich cream
Contains Slide and Lock filter holder for trouble-free setup
Removable water reservoir and drip tray
Included cup warmer
Swiveling steam sticks for steaming and Frothing milk
Selector dial for espresso and steam function
Indicator light
This Espresso machine has a powerful 15-bar Italian pump and has a fuss-free Frother. It contains an easy-fill reservoir to make the process more quick and effortless. It works seamlessly to make a quick cup of coffee.
Size and appearance
It has a nice decent look and works seamlessly to produce the best coffee. Moreover, it has a compact design and can be fitted into any space like a small kitchen counter or small office spaces. It is lightweight and made up of durable light material
Capacity
The capacity of this espresso maker is not as large as compared to other espresso makers in the list. This coffee maker is best for one or two-person.
9.Capresso 116.04 Pump Espresso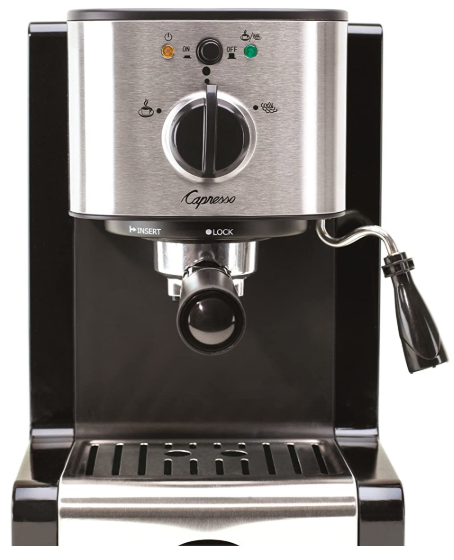 Capresso is one of the well-known coffee makers in the market. It brews strong rich flavor coffee every time. This espresso maker is packed with a ton of features and comes under the best coffee machine within 200 dollars. Some of its best features are given below:
Thermo-block heating system
Has dual filter
Heavy-duty stainless steel construction
Removable 46-oz water container
ABS plastic and stainless steel construction
Automatic rinsing cycle for proper temperature
Capresso 116.04 Pump Espresso has the fastest brewing system that brews fast and gives the best coffee result under a minute and gives you the best coffee taste every time. It has a heavy-duty stainless steel construction that gives it a great look and is durable and reliable for long use
Size and appearance
It is one of the sophisticated coffee machines in the market and is well-known for its elegant look. It has small footprints and looks great in any kitchen counter. This machine can also be used for office purposes and can be fitted into the office kitchen counter.
Capacity
It measures 42 ounces water tank capacity that is enough and perfect for those coffee lovers who want cup after cup. And it also permits you to enjoy a great few cups of coffee before it needs refilling.
10.Cuisinart EM-200 15-Bar Espresso Maker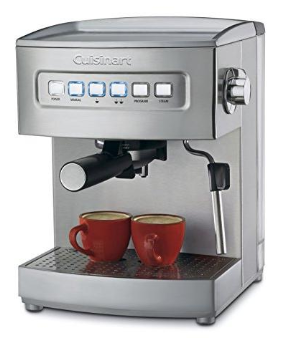 As a bar pump coffee maker, the Cuisinart EM-200 brews high-quality espressos. It is one of the espresso makers we have reviewed, which comes with its frothing cup. This machine has an easy maintenance system and easily cleans up. Some of the great features of the Cuisinart EM-200 describe below:
Practical design espresso maker brews single or double espresso
It allows you to select a pre-programmed cup size set at 1.5 ounces and 3.0 ounces.
Portafilter holder with locking mechanism
Has 69-ounce removable reservoir and removable drip tray
The Cuisinart contains a frothing cup for effortlessly steaming milk.
Offers 3 years limited guarantee
This coffee machine uses bar-pump pressure to extract the perfect flavors from the coffee beans. The pressure of the bar pumps makes espresso crema that is richer than that of espresso brewed with steam pressure.
One great function of the Cuisinart EM-200 that makes it one of the best espresso machines is the fact that it comes with both programmable and manual controls. This permits you to use in-between settings for brewing espresso to fit your coffee taste according to your own choice.
It comes with the steam wand that allows you to choose between frothing, steaming and foaming milk.
Size and appearance
This machine measures 12.8 inches high and 10.63 inches long and does not take up much space. It can easily be fitted into small kitchen counters. But this machine is a little heavier than other coffee machines in the list and weighs 25 pounds.
Capacity
The water reservoir capacity of the Cuisinart EM-200 espresso machine is 64 ounces that are large enough for coffee lovers who need coffee after every then and now.
Final words
There are many coffee makers available in the market today under $200 that not only wakes you up but will brew a strong and fresh cup of coffee for you. But, it depends only on you what type of coffee you prefer and what features you want in your coffee maker.
Each coffee maker mentioned in the list comes with the latest innovative components to meet your needs and help to ensure you get the perfect cup of coffee.
When you choose any coffee machine, one thing you should not compromise is the quality of the machine. As the great quality grinder is one of the essential parts of any coffeemaker. In this article, I have reviewed the best quality coffee makers under $200 to get you the best result. I hope my suggested reviews have helped you and you have found the right machine according to your needs. Have a strong and fresh cup of coffee. Cheers!