Using pre-ground coffee might be convenient and the best option for many but for those who love coffee know what it feels like to taste the freshly ground coffee. It takes your brew to a whole new level.
Today, in this article I am going to tell you about the best coffee makers with built in grinder.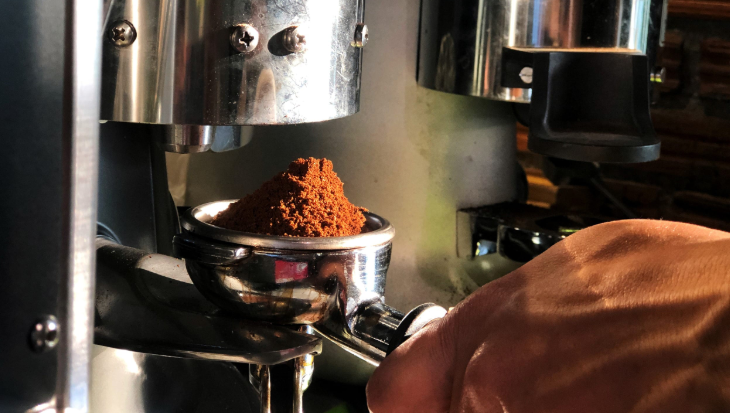 With the increasing demand, the race of manufacturing new models of coffee makers has also increased. However, a coffee maker that can grind and the brew is one of the best choices for die heart coffee lovers.
Having your grind and brew machine is a great idea. It saves you from throwing your bucks at cafes for your coffee. Available in broad ranges and offering different features, most of them are compact and save your space.
By having a coffee maker with a grinder you can easily simplify your morning routine as the machine brews the coffee for you with a push of a button. So you don't need to spend much time making yourself a cup.
Why a grind and brew machine?
For many coffee aficionados, having the best taste is a preference when it comes to their cup of coffee. Having a separate grinder for your coffee beans is not a good option since it will cost you more and will also take up more space.
It is therefore perfect to get yourself a coffee maker with a built-in grinder that can serve you the function of two machines in one.
Here is the list with detail of 10 best coffee makers with built in grinders.
1.KRUPS Grind and Brew Coffee maker KM785D50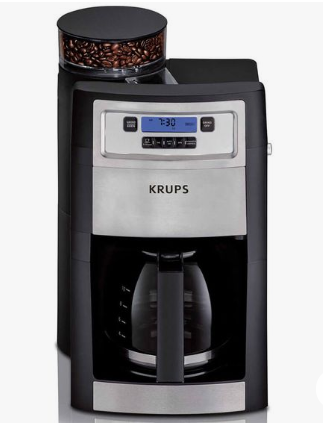 KRUPS Grind and brew makes sure that you have an outstanding flavor of your freshly grounded coffee beans. It stands out as the best grind and brew coffee maker.
The machine comes with a highly intuitive control panel having a crystal clear LCD to ensure you with a flawless coffee-making experience. It also comes with an auto-start option that automatically brews your cup at the scheduled time.
The grinder comes with 5 levels which gives you a grind size ranging from very coarse to fine grind coffee beans. The machine also does not overheat the beans which means there is no chance of deterioration of taste due to heat up of the coffee beans.
The keep-warm feature allows your coffee to stay hot for long making it possible for you to enjoy your hot coffee for as long as 2 hours after the brew session.
KRUPS make sure you have an unmatched taste of your coffee by delivering you the cup according to your taste and preferences. It comes with three options to set the desired strength and an optimized setting that allows you for a bold cup or a small batch of brew.
Highlighting features
Features stainless steel built in conical burr grinder with 5 settings
The grinder has the capacity of holding 8oz of coffee beans
Permanent gold-tone filter and charcoal water filter
Comes with a glass carafe
Capable of delivering 10 cups
The machine is very convenient and has a sleek and compact body that can be easily placed on your kitchen counter or workplace without taking much of your space. With KRUPS you can sit back and relax your ideal cup of coffee at the comfort of your home space.
2.Cuisinart DGB-900BC Grind & Brew Thermal 12-Cup Coffeemaker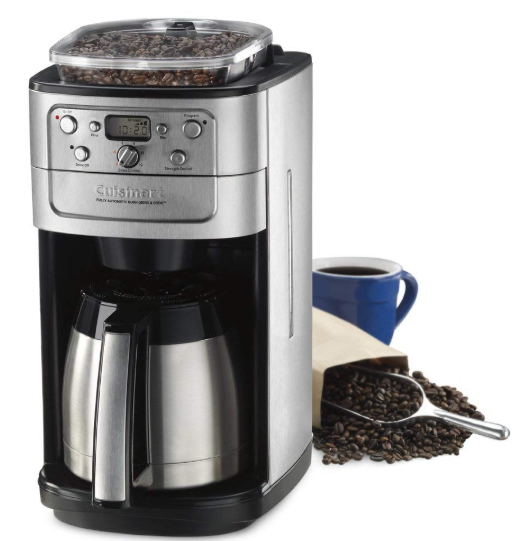 The DGB-900BC by Cuisinart offers you with a simple menu with powerful and essential options. It is built to suit your kitchen counter with its stylish and sleek body that does not take much space.
The grinding chamber of the coffee maker is protected with a see-through plastic lid which makes it easier to have a look at the beans. For automatic brewing, it comes with a digital clock and a timer that lets you have your brew scheduled and have your cup made automatically.
The brew pause system of the coffee maker allows you to have your cup in between the brew cycle if you are in a rush of time or don't need a strong cup for yourself.
It allows you to have a minimum of four cups at once and a maximum of 12 cups in one brew cycle. The thermal carafe of Cuisinart makes sure to keep your coffee hot for long so you can enjoy your cup anytime you want.
The bean hopper of this coffee maker is capable of holding 8 ounces of beans in one hold. The brew strength control lets you customize your cup flavor from bold and strong flavor to a mild one.
Once the coffee is ready your machine will beep once and will shut itself automatically saving your energy consumption.
Highlighting features
Built in conical burr grinder
Stainless steel thermal carafe with double wall
Auto brewing and grinding up to 24 hours in advance
12 cup brew capacity
Gold-tone coffee filter and charcoal water filter
Comes with strength selector and grind control
Being in the sub-premium category of the coffee maker with grinders, Cuisinart provides you with the best of the best features that are needed by a true coffee lover.
3.BLACK+DECKER 12-Cup Mill and Brew Coffeemaker CM5000B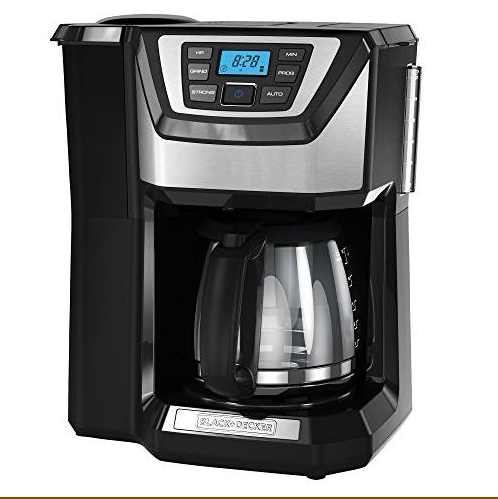 The black and decker coffee maker can mill and brew 12 cups of coffee turning your coffee beans into a delicious coffee. It features a compact grind and brew coffee maker.
It has a control panel that comes with quick-touch technology for easy programming and operation. The control panel offers you with many essential features such as selecting your strength of the brew, setting the time and also an auto brew option.
The carafe of this coffee maker comes with a window that gives you a clear view. This makes it easier for you to have a look at your brew cycle and to have a precise measurement of the water level. The carafe also has a non-sticky plate of it which keeps the coffee hot for long.
With its 24 hours auto brew option, it lets you program your brew session so you are assured that you are getting a fresh cup of coffee right out from your bed. The auto shut feature saves the power once your brew is done.
Highlighting features
Built in integrated grinder
Permanent bronze tone filter
Duralight glass carafe
Sneak a cup feature
This black and decker coffee maker comes in a budget-friendly window with all these amazing features which is quite good for the value that you pay for buying it.
4.Bonavita Connoisseur 8-Cup One-Touch Coffee Maker BV1901TS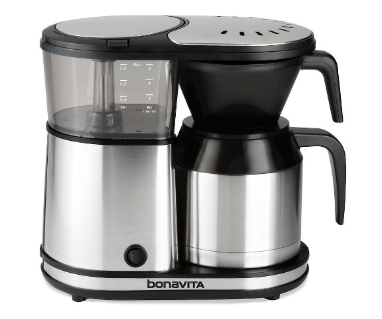 The Bonavita Connoisseur offers you a fully versatile grind and brew coffee making machine that is capable of brewing b cups of coffee in merely 6 minutes making it one of the best coffee machines with grinders.
This coffee maker comes with a simple control panel which makes it easier for you to operate with its one-touch button. Your coffee is always on the go.
Flipping the button kick starts the machine for the brewing process while pressing it down for 5 seconds, activates and deactivates the pre-soak function. Pre-soaking helps to remove the excess gas from the beans which occur due to the freshly roasted beans that contain carbon dioxide that can taste off from your coffee.
Since maintenance of temperature is very essential for the balance in the taste of your coffee, the Bonavita Connoisseur has great control over temperature to give you a depth of flavor and lack of bitterness with each sip that you take.
Highlighting features
Showerhead brew design
One press functioning
Thermo carafe to keep the coffee hot
If you are seeking a competent coffee maker that is affordable yet delivers you with a quality cup of coffee then Bonavita is surely a go for you.
5.Capresso 465 CoffeeTeam TS 10-Cup Digital Coffeemaker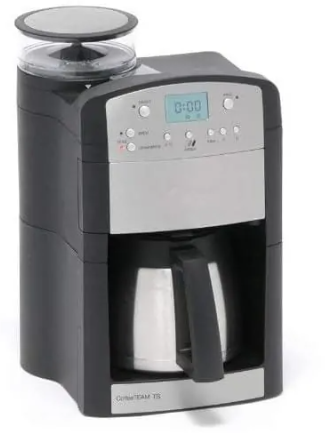 Capresso 465 comes with a durable body that is made up of stainless steel and is an ideal coffee maker for those who love their coffee with grounded beans. The stainless steel body adds aesthetics to its design and maximizes the aroma of the brew.
It is an ideal coffee maker with built in grinder
The machine is automatic and offers an auto brew process. The process starts automatically with the push of a button and pushes the perfect amount of beans into the grinder to have a grind of your desired size. The 5 grind setting allows you to choose from coarse to fine. Once ground they pass through the filter for the brew cycle.
It also has 5 brew volume selections and allows you to choose the volume from 2 cups to 10 cups. For the perfect taste, the machine takes the responsibility to extract the water and load the beans to have a balanced taste range of 3 strength i.e, mild, medium and strong.
Highlighting features
Built-in conical burr type grinder with 5 settings
Minimum noise
Thermal carafe
Permanent gold-tone filter and charcoal filter
Completely programmable
It also has a brew pause option so you can have a cup in mid of the cycle. Also, with an auto brew option, you can program your brew session according to your needs.
6.Breville BDC650BSS Grind Control Coffee Maker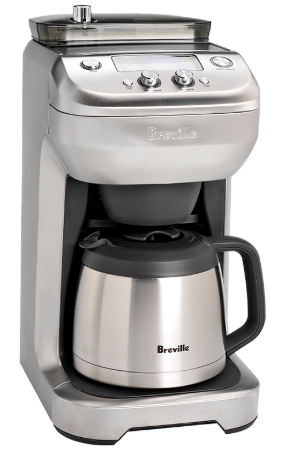 Breville comes with its grind control feature to grind the fresh beans for you every time you brew your coffee. It comes with a stainless steel body which gives it the elegance that you might need for your home.
This coffee maker comes with an insulated stainless steel carafe which can hold up to 60 oz of coffee and can keep it hot for you for quite a few hours.
If you need a single cup of coffee for yourself the Grind Control is for you. With grind control, you can adjust the setting and can have a single cup for yourself which makes it the best single cup coffee maker with a grinder for you at times of need.
Apart from brewing a single cup, the thermal carafe of Breville is capable of brewing 12 cups of coffee in one go, so if you are having a party or need an early morning brew for your family you can run the brew cycle for 12 cups.
The crystal clear LCD is concise and comes with many needed features. It allows you to select your brew strength, the volume of water and the fineness of your grind.
With the auto brew function, you can set the time for your desired grind and the ground control will start the process on its own to ensure that your Joe is ready and you don't have to wait.
Highlighting features
Stainless steel body
8 strength settings option
Reusable gold-tone filter
With its perfect grinder, this coffee maker can grind from Brazilian to Columbian to Sumatran with perfection. Just customize your grind size and wait for the taste that suits you.
7.Breville the Barista Express Espresso Machine BES870XL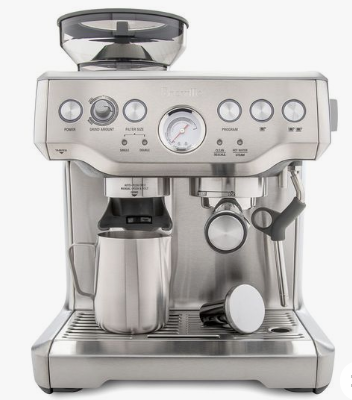 This espresso machine by Breville is one of the best semi-automatic espresso machines available in the market which offers you highly customizable control over your coffee. It's an ideal machine for beginners due to its easier programming options.
This coffee maker comes with two dual-wall pressurized filters which help to regulate the pressure and optimize the extraction. For a perfect regulation of water temperature, it comes with the Thermo coil heating system.
The hopper is quite large and can hold a good amount of beans i.e. up to half pounds. With its burr grinder, the machine is capable of grinding the beans within seconds
The control panel of the machine features intimidating knobs, dials, and buttons for a barista experience.
Breville comes with two dual-wall filters and two single-wall filters. The pressurized filters help to optimize the espresso extraction by regulating the pressure. The double-walled filters are ideal for beginners whereas single-walled are a bit challenging and are god for those who have mastered the skill.
Highlighting features
An integrated conical burr grinder
Pressure gauge
Interchangeable filters
Professional grade steam wand
Wide range of grind setting
Hands-free grinding cradle
Breville is truly a machine which is designed to add a spark in the lives of true coffee and espresso lovers. It is one of the best coffee machines with grinders.
8.De'Longhi ESAM3300 Super-Automatic Espresso/Coffee Machine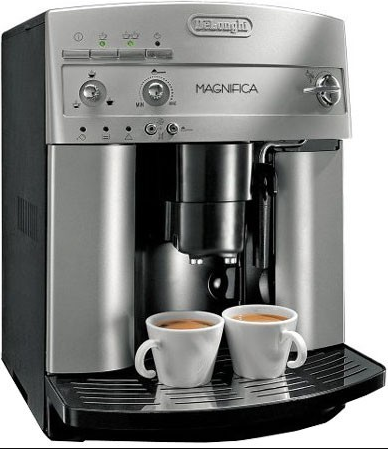 ESAM3300 is proven as a reliable super-automatic espresso machine. This espresso machine has everything that a true coffee lover needs. The design is reliable and durable making it last for long.
This coffee maker comes with an intuitive control panel with programmable menu settings. It features two knobs, a few buttons, and some indicating lights.
It comes with a water reservoir that slides right from the front and is capable of holding 60 oz of water in one go which is a high capacity for a water tank of a coffee maker. Apart from the water tank, the hopper can hold 8.8 oz of coffee beans in it.
The body is made from stainless steel and comes with a double boiler system that ensures quick and even heating throughout
Upon brewing, the grinder grinds the bean of demand offering you with 7 grind settings. The process of grinding may be a bit noisy for you. The steam wand has a small air intake hole at each side that sucks the air and injects into the milk creating the froth.
This coffee maker is not designed to brew a pot of coffee for you but it rather brews by the cup. The control panel allows you to adjust your cup size to a maximum of 8 ounces. You can also ask for the double shot which delivers 16 ounces.
Highlighting features
An integrated conical burr grinder
Front access to the water reservoir
Pannarello Frother for frothing with the separate heat element
Dual stainless steel Thermo block boilers
If you are looking for a single-serve coffee maker with a grinder built in this machine is for you. With its sticker price, the Delonghi Magnifica is surely a go for you if you don't need an average cup of coffee for yourself.
9.Cuisinart DGB-550BKP1 Grind & Brew Automatic Coffeemaker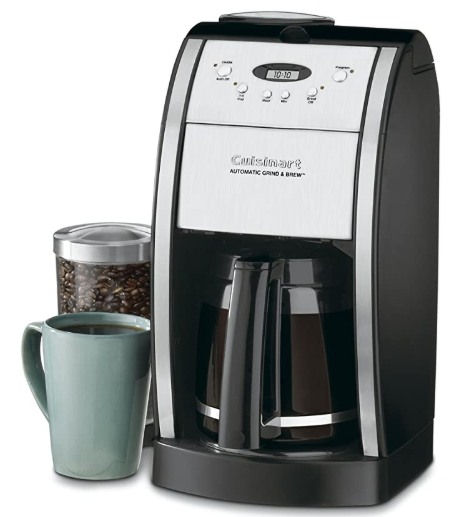 This coffee maker by Cuisinart comes with an Italian styled finishing with a brushed metal design giving it the pleasing and aesthetic look. It's a compact grind and brew coffee maker.
This is one of the premier series by Cuisinart which delivers you with 12 cups of coffee in a single brew cycle.
The carafe is made up of glass and comes with an ergonomic design featuring a knuckle guard, dripless pour spout and a holding handle. The grinder grinds the whole beans right before brewing ensuring that it produces a good and flavorsome coffee for you every time. For pre grounded coffee you can turn the grind off feature and have your regular coffee.
The showerhead design of this coffee maker distributes the water evenly over the coffee thereby reducing the temperature loss as the water passes through the grounded beans.
The water reservoir comes with a lid that flips back so you have an easy filling experience. It comes with a safety interlock system that prevents the operation of the coffee maker if in case the reservoir's cover is open.
With the brew-pause option, you can stop the flow of your coffee from the basket when the carafe is removed from the heating plate so you can have a cup in mid of the brew session. It also has an auto brew function which you can use to program your brew time and can leave your alarm clock aside, getting up to the aroma of your freshly brewed coffee.
Highlighting features
Features built in burr grinder
Commercial gold-tone filter and charcoal water filter
Glass carafe
Comes with programmable brewing and brew-pause option
Auto shut off 0-4 hours adjustable
This is offering you an unparalleled simplicity the Cuisinart coffee maker delivers you with a rich and flavorsome cup of coffee. It is surely a breeze in a modern kitchen.
10.KRUPS EA8298 Cappuccino Bar, Fully Automatic Coffee Machine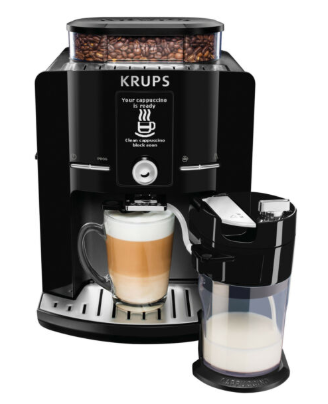 The KRUPS Espresseria is a bean to cup machine for die heart coffee lovers. The machine may look like a lower-end version due to its virtually made plastic body but comes with a digital display for ease of use.
Encased in a stunning black body this coffee maker comes ready to prepare a perfect cup of coffee for beginners as well as coffee aficionados. With its removable milk Frother, you can have a rich and smooth espresso or a latte within minutes.
The machine is fully automatic and comes with a compact size that can be carried from a kitchen to a lawn. The control panel of this coffee maker is user friendly and offers the feature without any hassle.
With its 15 bar pressure pump, the Krups coffee maker ensures that it is extracting the full flavor of coffee beans to deliver a rich shot of coffee to you. It delivers great aroma with the end of the brew cycle.
The Krups cappuccino bar is a well-suited coffee machine for the coffee enthusiast. The machine comes with a lush and perfect feel and is always ready to serve you a fresh cup of espresso upon demand.
Highlighting features
Built in conical burr grinder
15 bar high-pressure water pump
Thermoblock heating system
Comes with a removable milk frother
Krups provides you with a good value for a machine that can froth the milk and deliver you the brew. If you are an espresso lover and want a barista-like flavor of your coffee at home then go for this coffee maker.
Final Words
After reading and considering the details of best coffee makers with built in grinder you may have a clear image of the one that you need.
The market is full of different manufacturers that are offering you the quality product with your desired features. It's up to you to invest in the one that suits you and your space.
For me, and many others, KRUP grind, and brew stands on top of all the other competing machines due to its competent features and outstanding body. Mentioning the other well, grind and brew coffee makers here might have helped you in your selection. Enjoy your grind!