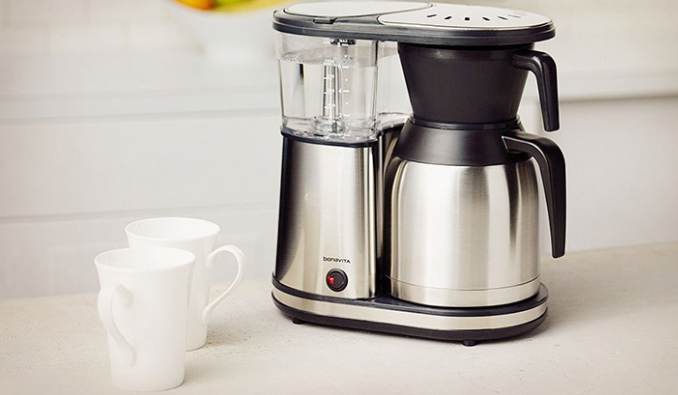 Do you want to satisfy your craving for coffee instantly? Nobody would ever like to have a coffee which gets cold despite the fact that it is not a cold coffee. You can keep your coffee fresh and warm with the help of coffee carafes.
Coffee machines are a blessing for coffee lovers as they provide the ease of having an instant coffee rather than having a pre-made one.
If you want coffee for a large group of people and also fond of having a warm one to refresh your mind then in either way you have to look for a better solution because a normal coffee maker would not help you but a carafe would.
All of you are having this query in your heads that how could a carafe be better than a coffee maker. Here I have an answer to this that the carafe is used to capture the coffee as it is made and to serve the coffee as soon as it is finished.
The carafes are built to be elegant and comfortable so that you can carry them out to the table and encourage the guests to enjoy themselves as they wish. Carafe not only keeps your coffee warm yet any temperature of your desire can be kept constant for prolonged periods in the carafe.
How being a coffee lover can make your life easy with having coffee of your choice is the question you will get the answer to when you will go through the best coffee makers with carafe in the article further.
1.BLACK+DECKER 12-Cup Thermal Coffeemaker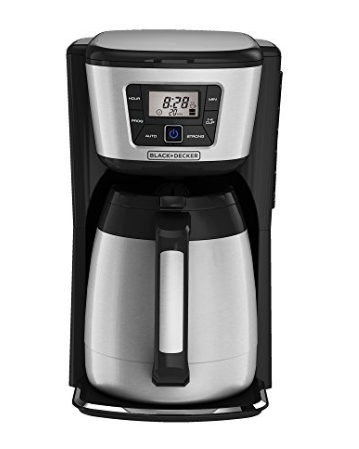 As the name is already suggesting that it prepares 12 cups of coffee which makes it best for large gatherings of high tea.
One of the main factors of it being preferable is that it offers easy setup. All structures are extremely simple to use, including more complex ones, such as selecting your brew power or setting time.
The corresponding manual of guidance is well-written and simple to understand, but the regular person will possibly work out all the functionality without ever cracking the cover of the booklet.
Comparatively, it offers good performance yet not best so far but can be considered. It performs fine for the price. The reason for not rating it best is its brew time which is a bit slow and takes 10 minutes to brew.
Black+Decker holds a basic design. This is combined with a black plastic frame with a metal carafe and around the nose. The gadget has a pretty regular appearance and won't stick out when installed on most kitchen counters, which we will find to be a positive thing.
Black plus Decker has snuck a range of high-end features usually reserved for more costly models in their 12-cups thermal package.
Usually, we become impatient while waiting for a full pot to be prepared, so we enjoyed the Sneak-A-Cup function. The front of the unit has just seven buttons that are specifically labeled with Auto, Powerful and 1-4 Cup options.
While it produces 12 cups, the machine has a very tiny footprint, taking up less than a 7 x 9-inch area on your table. Do not forget to run water twice in the carafe before using it and also keep your coffee maker clean for better quality and taste because dirty machines will result in bad taste.
2.Cuisinart DCC-3400P1 Stainless Steel Thermal Coffeemaker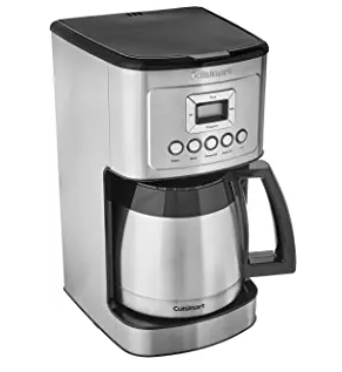 Cuisinart DCC-3400 is the best thermal carafe coffee maker out there in the market. It is equipped with a coffee making machine that brews the beans of coffee to its deal level. It helps to abstract the natural taste and quality of your coffee.
If we talk about its design, it has an ergonomic design and the structure is user friendly. It is all made up of stainless steel. You have a choice to choose between regular or strong brew strength for a flavor profile. If you feel happy then go for the regular one and addicted people who are bold always work.
Moreover, for a group of four-five people after choosing the brew strength, select a single serving of 1-4 cups but not only this you can also make 12 cups out of it and serve at a time to all the people either you have a big family or having a lot of friends.
Warmness is the only solution in cold breezy weather. To make yourself cozy with warm coffee Cuisinart is the best option, it keeps your coffee warm for more than 2 hours or four hours. So, you can read a book while having a coffee and vice versa.
The thermal coffee maker has an LED-backlit panel where you can interpret the settings. Over the next 24 hours, you will set it up to brew your favorite coffee. Now, any time you get up in the morning, you've got a freshly made coffee.
People who only want one up at a time yet looking for a machine are confused at the moment. I would say do not get confused because I have an option for you, go and check the link best coffee makers for one person. It definitely will help you to find the right one or you.
3.Plus Coffee Keurig K-Duo Maker 12-Cup Carafe Drip Coffee Brewer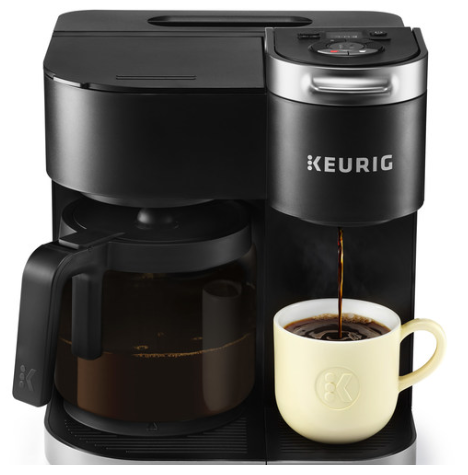 If you lay in that category of coffee lovers who until having a strong cup of coffee in the morning they can't function properly. If yes, then go and read the description of the best carafe coffee maker till the end.
If a coffee machine is good at brewing then the plus point is added to it. Keurig K-Duo Plus offers you incredible brewing. To brew a cup two things that are must require are k-cup pods and ground coffee to produce a cup and a carafe of your favorite kinds.
The included 12-cup thermal carafe is perfect for keeping your coffee warm for up to 2 hours, and the added convenience of the Pause & Pour feature makes it easy to serve. Or you can set your preferred brewing period up to 24 hours beforehand and experience a freshly brewed carafe whenever you want it with the Programmable Carafe Auto Brew.
The elegant construction of the coffee maker offers an eye-catching aspect of elegance, and our first ever Multi-Position Water Reservoir can be placed on the left, right or the back of the brewer, providing an ideal setup for your table.
Again this also offers warm coffee so do not worry about the coffee to get cold. Build the dream cup and carafe with a coffee maker every time. Select your preferred ground coffee or pick from hundreds of tasty K-Cup pods of coffee, tea, cocoa and more.
Using the Heavy Brew button to make a bolder, more concentrated single cup and carafe and for various brew sizes, you can produce a 6, 8, 10 or 12 cup carafe for wide parties, as well as a 6, 8, 10 or 12 oz. Coffee.
You can create the ideal amount of new, full-bodied coffee, whether you're entertaining guests or just having a cup of coffee.
4.Cuisinart DCC-3200P1 DCC-3200 Glass Carafe Coffeemaker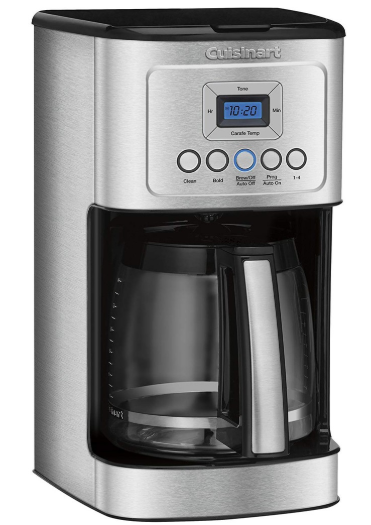 Cuisine DCC-3200 is a unique style best thermal carafe coffee maker. Get your favorite taste served by this one.
The DDC 3200 is very simple to deal with. And if you've never used a coffee maker before, you should do it quickly. All you need to do is add the required amount of water and coffee, and then you'll have to press the bold button to get a hot, stronger brew.
It won't take longer than five to ten minutes to produce a complete bowl and tasty coffee. Keep the temperature to 195 to 205 degrees.
It's going to fit perfectly with the new kitchen. This is also available in various paint choices to help you choose the right match based on the style and color of your kitchen interior. A glass carafe is capable of keeping twelve to fourteen cups of a beer.
There is no hustle of analog switches because Cuisine 3200 has a button-based control. You are just a press away to coffee. Also, it features a digital clock that lights up and is very visible.
And, like any heavy-duty coffee maker, the machine is vulnerable to clogging if it is not regularly washed, particularly if you live in an environment of strong or unfiltered water.
The DCC-3200 features a wide and clear LED monitor. You can decipher the text quickly. It's always pre- for 24 hours. The control panel is very easy to understand.
Typically, coffee machines can send you cups that have an unpleasant scorched flavor as soon as the temperature hits a certain point. This is not the case with the Cuisinart model. When the maker understands what you're doing, the beer is going to taste amazing in whatever conditions.
5.Ninja Coffee Maker for Hot/Iced/Frozen Coffee with 4 Brew Sizes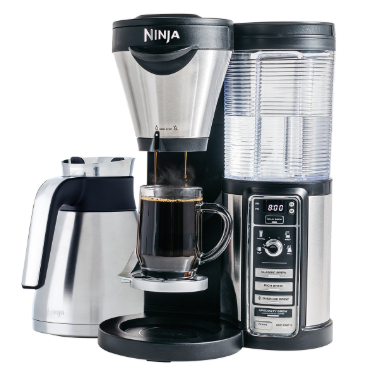 First of all, we're going to look at what was substituted by the Ninja Coffee Bar Lineup, the Hot and Cold Brewing Setup. If you can believe it, this Ninja concept adds much more flexibility to your laptop.
Scale wise, this pattern will produce a cup, an XL cup, a regular mug, an XL multi-serve / work mug, a half carafe, and a complete carafe.
Ninja's patent-pending brewing technology is built to produce stronger, richer-tasting coffee with differing degrees of richness that are rarely dry. Even the Ninja Coffee Bar brewer has Thermal Flavor Extraction, which also activates the maximum flavor ability of your coffee.
Our water tanks are strategically positioned on the side for quick withdrawal and refilling. Uniquely crafted brew buckets can be easily removed for quick loading and emptying of coffee grounds or tea leaves both our coffee brewers to come with a scoop to help you perfect your measurements.
For brewing, you can pick from the traditional, warm, ice-cream, cold brew & specialty. Plus, you can also brew herbal, orange, oolong, white and green tea if you're into it.
Ninja's Classic Brew gives your favorite coffee a fast, delicious, natural flavor. Will you want to step things up a notch? Rich Brew is better than Classic because of a more concentrated taste that also holds up to add milk and flavorings. Specialty Blend produces the largest concentration of coffee.
The unit features permanent coffee and tea tubes, individual coffee and tea bins, a ninja smart pick, a fast start guide, and a 40-recipe book. And the system itself has a compact water tank,10 cups of the warm carafe and a fold-away pal.
Ninja is the best option for those who are looking for coffee makers with carafes. With good features and great stability, Ninja is waiting for your consideration.
6.Melitta Pour over Coffee Brewer with Stainless Steel Thermal Carafe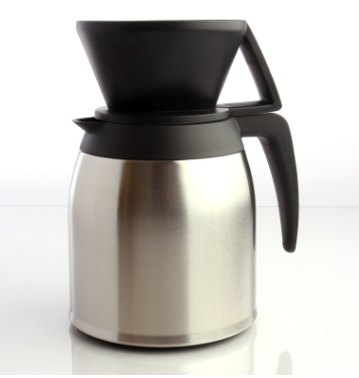 Greater the pressure and less the time, is it the situation with you? Guests are there and you have to serve the coffee. Melitta has solved this problem, you can make up to 10 cups of well-brewed coffee and the best thing is that it will stay warm.
Your guest will be pleased. But only try this when you want them to visit again. The design of the best carafe coffee maker is simple yet elegant. It has a fancy metallic look but in actual it is of plastic.
Now have a look at some amazing features Melitta has to offer. It weighs just 6.5 pounds, making it easy to push around on the desk but sadly Melitta accomplished this lightness by using only plastic in the machine's design.
The brew is going down in the right period. This couldn't be smoother, so it's going to make my gold standard cup. The 10-Cup Thermal Coffee maker requires both a carbon filter to eliminate water impurities and a permanent gold screen.
Although the front side of the carafe consists of polished stainless steel, precisely the funnel-shaped filter holder and the carafe frame, the remainder of the device is shiny black polycarbonate. It feels small, and the way its lid flexes don't inspire much trust in its longevity.
Maybe you know that there are only 3 fundamental factors to test the quality of the coffee and these are: brewing temperature, brewing time and the ratio of coffee held to the water that passes through them.
Melitta advises that one tablespoon of ground coffee be used for each cup of tea. The filter cone is secure for the dishwasher, and washing is just a cinch. It comes with a coffee scoop and five filters to get you going.
7.Mr. Coffee BVMC-PSTX95 10-Cup Optimal Brew Thermal Coffee Maker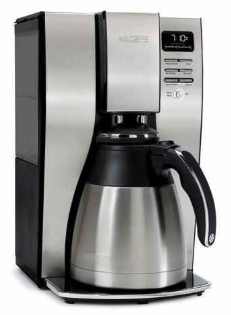 The carafe is constructed of double-walled stainless steel to hold the contents hot and the brass stops immediately when withdrawn for pouring.
Reliability and quality go a fair way toward helping a coffee maker stand out from the crowd, which Mr. Coffee's entire Optimum Brew machine quickly achieves. Packed with a stainless steel thermal carafe, Perfect Brew makes the drink cooler than the typical coffee maker.
This 10-cup thermal coffeemaker often features a water filter to significantly eliminate chlorine and create a cleaner taste. The built-in water filter of Mr. Coffee removes chlorine.
Be sure to use the supplied Water Filtration Disk to flush away chlorine and impurities from water while fermentation so that you can experience a great flavor as it is supposed to be. Experience the flavor of Mr. Coffee's brand.
This blends a high brass temperature of up to 205 degrees Celsius with a quicker brass pace, resulting in an excellent taste of the coffee.
Additionally, some of you crave coffee in their offices. I have something for you guys. Do visit this link best coffee makers for small offices this article and find a solution to this craving.
Early risers are attentive; it is for you. It is brewing 10 cups of coffee in less than 7 minutes, so you're going to be out of the house in no time with fresh piped coffee in your mug. The stainless steel thermal carafe holds coffee fresh for up to two hours. Due to its elegant nature, it's simple to attach ground coffee and fill the tank with tea.
It's quick, has decent power, and because the carafe is essentially a thermos, it's going to hold your coffee cooler than a standard coffee maker. And I think it is great to have a coffee and so many other works done along with this because it stays hot for an extended period.
8.Bonavita BV1900TS Coffee Maker Featuring Thermal Carafe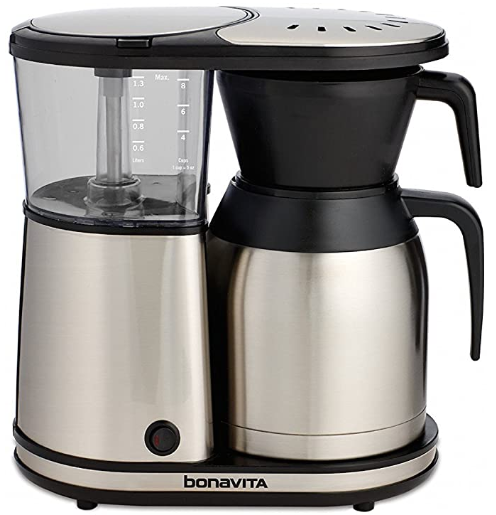 Here we have another best pick for you. Whereas some coffee makers might have a complicated display screen, this device has zero graphical readouts or complicated configuration instructions.
This coffee maker has a rather cool feature named "Pre-Infusion Mode," which is intended to produce a delicious cup. The technique produces a pot, which ensures that the coffee grounds are gently saturated before the real brewing cycle starts.
Bonavita 8-cup coffee maker uses a carafe to create the coffee. The size is approximately 40 oz. So you may use the coffee maker to produce 6-8 cups of coffee, based on the amount you want.
As for the volume of coffee that should be used, the producers consider using 10 grams of ground coffee per cup. The coffee can be prepared in around 6 minutes.
This user-friendly coffee maker is also simple to run. There's a tab here, that's it. It's more of a tiny, circular, button-shaped turn. Flipping it on kick-starts then it will start the processing of brewing. Pressing the switch down for five seconds will enable the pre-soak feature. Pre-soaking is a convenient method to extract waste gas from fresh soil.
This coffee machine has a flat-bottomed, basket-style coffee filter. You've got to put ground coffee in this, and then place it over the carafe before you put it in the brewer. Even, the filter bucket is secure for the dishwasher, making washing a lot simpler.
The brewer comes with paper filters, although you can use reusable filters from other products as well. After you've made a cup, you can bring a stainless steel thermal carafe everywhere you're seated without needing to think about burning your fingertips or lacking a trivet.
Another outstanding feature: the coffee stays hot in the stainless steel carafe due to the 1560-watt heater and the automated heating system. We realized it had remained hot for up to two hours.
9.Technivorm 79112 KBT Coffee Brewer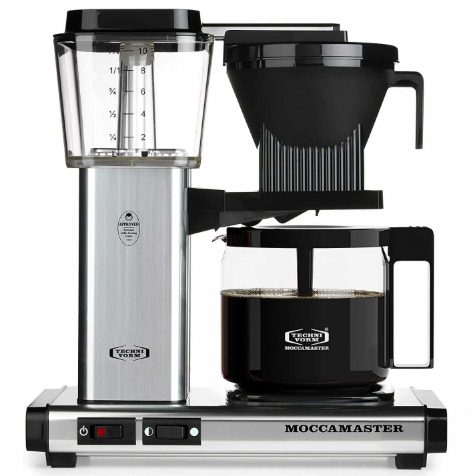 Technivorm is our last pick but not least so consider it as best too. It offers various good features. It consists of straight curves, strong angles, and a ton of negative volume, the Technivorm Moccamaster KBT 741 looks desirable as an understatement.
With its prolific usage of rubber, translucent plastic and, to some degree, glass, the Moccamaster is one of the most stunning automated coffee machines ever used. From that flat, rectangular base of the Moccamaster, there is a small, wide tower capped by a trapezoidal water tank.
To the right of this glass, the enclosure is a hard-plastic funnel with regular type 4 paper filters or permanent gold filters. This brewing basket sits on a small, black plastic frame, which gives the filter a distinct appearance.
If the water is in there, it's time for the filter basket to operate. It uses either no. 4 cone paper filters or a permanent gold form. Yet with this filter array, you'll find something a little odd. There is a tiny lever that activates the manual drip stop, which can be positioned in three places.
The first one holds the drip system open and helps you to brew a full carafe, the second one shuts it partly to a half carafe, and the last one shuts it entirely so that you can spill out a cup in the center of the brewing process.
Technivorm Moccamaster features a splendid dual- stainless steel carafe, a vacuum thermos system that holds the coffee hot for up to 5 hours. There are always two carafe lids on the face of the carafe. The first, a graded brewing cap, minimizes the loss of warmth during the brewing cycle by controlling the flow of the dripping coffee through the insulator channel.
Final Words
Let's beat the laziness with a well-brewed cup of coffee in just a few minutes. No, I am not talking about the hand beating because I have a better solution for this. Here we have the best coffee makers with carafe with incredible features like filtering, grinding and a lot more.
One of these is a top-notch coffee carafe named Mr.coffee for 10 cups of coffee at a time and if you are having a large number of guests. So, you can visit Keurig K-Duo plus.
For those who only like the taste of warm coffee Ninja is offering you a cup of coffee in a few minutes and keep your coffee calm for extended periods. Now it's your choice which to pick. It's time to get a coffee carafe and enjoy some delicious coffee without spending a lot of time. I hope you guys have liked my selected list of coffee carafes. Do not forget to share your thoughts by commenting below in the comment box as I am ready to take your worthy suggestions.