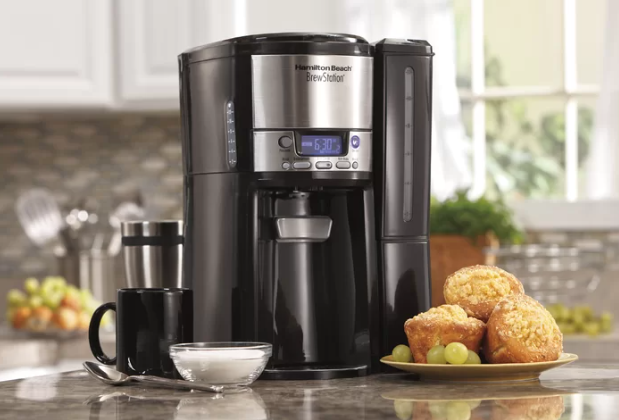 An amazing sunrise with a mug of hot and fresh coffee makes you forget about the worries from yesterday, the things you have to do tomorrow and just live in the moment for today.
For this purpose, buy Best Coffee Maker without Carafe because Carafe can hold you onto anger, and drain your energy when you are running out of time, especially in the morning.
Usually, if the morning starts well, the whole day goes well. To save your time and preserve your energy, buy a coffee maker having no carafe.
The glass chipping and a metal flavor of the carafe in your coffee kill the taste.
On-demand coffee makers are available in the market, having no carafe. There are also some other factors you should consider, while buying the best coffee maker for your home, for office, etc.
Cost-effective
The coffee makers that you are going to buy, either online or in-store, shopping should be economical and easy to use.
No carafe
Be cautious and read the product description in detail before buying, and make sure it does not have carafe.
Capacity you need
Purchase it according to your need, like for a single user, buy which has less capacity than a user required 10 cups at a time and need a coffee maker having more capacity.
Special Features
The product which you are going to buy should have some special features that you need and like.
Continue reading and you will find the best coffee maker for you.
1. Cuisinart DCC-3000 coffee maker without carafe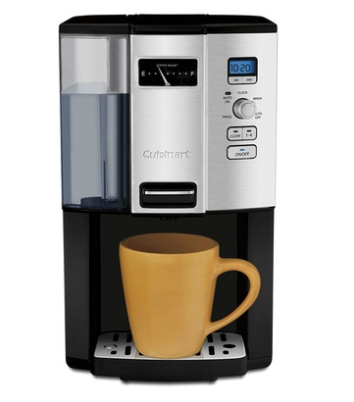 It is safe and easy to use. You just have to set your alarm and its start time the same, fill its reservoir with all essential ingredients like water; coffee powder etc. a night before to avoid any inconvenience, and in the next morning you will find hot and fresh coffee ready with no time.
Cuisinart DCC-3000 is the best coffee machine without a carafe. You will love buying it because of its outstanding performance and remarkable features.
Special features
It has an auto-on and auto shut-off function that allows you to just set your coffee up to brew and leave it. From the amount of coffee to the time in which it gets brewed, programmable settings perform a wide variety of functions to save your time and energy.
It has a Charcoal water filter to ensure water purity, and a double-walled coffee reservoir can prepare up to 12 cups of coffee.
You will make it your priority when it comes to offices or other commercial businesses when there is no extra time to prepare coffee.
These inconveniences were kept under consideration while designing it. The multiple warmers were introduced into it. They do extra work by keeping it hot up to four hours, without killing its taste as a carafe does. In a carafe, it remains hot only for 2 hours and leaves a metallic taste with coffee.
One cup of coffee passes outs from the dispenser at a time. To relish the moment or get rid of fatigue; press the lever, fill your cup with an amazing beverage, and enjoy every sip till the end.
The exterior is compact, stylish and durable, having smooth edges. It is very easy to clean, as you can remove the water reservoir for washing without getting into trouble.
Also, electricity and power consumption is far less than other coffee makers because of the presence of a programmable setting, which enables it to automatically turn on and off according to the commands given to it.
2. Hamilton Beach Coffee Maker 48464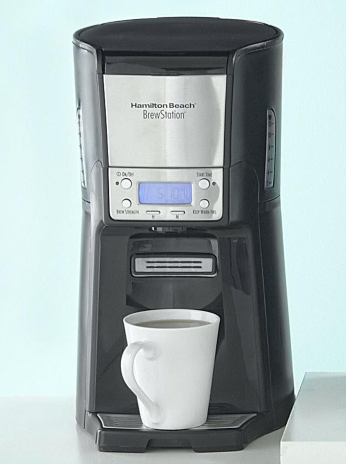 It is also one of those coffee makers that don't use the carafe. Hamilton Beach 48464 is one of the bestselling coffee machines, because of its greater working efficiency and larger capacity.
Special features
The attribute which makes it different from others is its size. All of us have a space limit in our kitchens for appliances. It occupies no counter space and is easy to adjust to a cabinet. Another option you will love the most is you can choose whether you want to drink a mug of hot coffee to stimulate your mind or an iced coffee mug to refresh your mood.
It comes under the category of on-demand coffee makers as it can brew 12 cups of coffee at the same time without having carafe.
The exterior is black to use it everywhere, either in the office, in the home kitchen or any other workplace as it is a traditional cum commercial coffee-making machine. It dispenses one cup at a time.
It is not complicated to use, removable and the big water reservoir is designed in this way that water can be added into it through faucet directly to prepare your beloved beverage. When it's time to clean it up, a reminder reminds you to clean it to ensure good performance.
An internal heater keeps the coffee hot and well in condition for up to 4 hours.
To avoid any disruption in your morning tasks; set it up at night by filling its reservoir with water you need, filter paper with ground coffee and in the morning you will get up with your ready cup of delicious coffee. You can brew 2-3 cups and take them out with you at your workplace.
The dispenser does not drip but after 2-3 years of extensive usage. The coffee does not give a burnt taste as traditional carafe does although reheating may occur sometimes. It has good quality and has a compact body.
It has great potential to tackle heating system issues and you get a pretty mug of coffee on your own without spending much time.
3. Cuisinart DCC-2000 Coffee-on-Demand
It is one of the best on-demand drip coffee makers without a carafe. It's quality construction, programmable settings, and nice-looking brushed chrome exterior rank it in the most demanding coffee making machines.
Special features
It can prepare up to 12 cups of quality coffee at home or your workplace.
You can brew the required amount once in the morning before leaving for the office, etc. And use it later because of its excellent internal heater brews and stores the coffee hot and fresh up to four hours.
It has an auto-on option with a green light indicator. Once you fill its reservoir with required ingredients like water, coffee powder, etc. And customize its starting time according to your schedule; it will automatically prepare delicious coffee for you.
It also has one more time-saving feature to facilitate you. The green line turns red at the time of brewing, and you can fill your mug when it is still brewing. After the brewing is finished, it beeps to remind you that your beloved beverage is waiting for you to drink. The auto-shut function saves electricity consumption.
The double-walled removable charcoal filter is for monitoring the water purity. It has a self-clean option and a removable water reservoir to make water filling easy for you. The water gauge is on the right side, with which you can easily check how much water you want to pour.
Along with these, it also has a permanent gold-tone coffee filter to ensure the freshest beverage every time. It dispenses one cup at a time and operates on an easy-to-read actuator.
An analogue dial gauge is the adjustment of the required coffee level for brewing. Long travel mugs can also be filled with the help of the removable bottom tray. It does not cause coffee spills and drips on the counterpart because of its long-lasting body.
Additionally, it has a measuring scoop to help you measure the right amount of ground coffee, an instruction book, and three years of warranty.
4. Hamilton Beach Coffee Maker 47900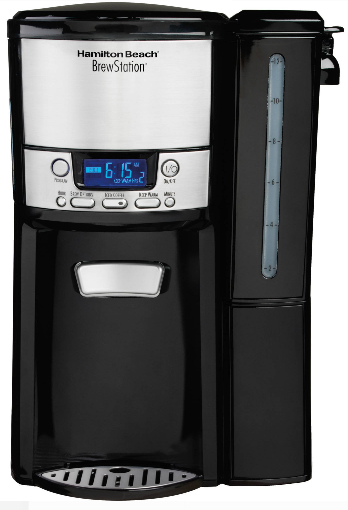 Hamilton Beach always makes products according to the customers' choice. It has a mission to make lives easier; it has released a new traditional drip coffee maker with no carafe.
Special features
It has an enclosed brewing system with a capacity to brew up to 12 cups of a pretty good coffee at a time with Keurig.
In addition to this larger brewing size, it holds a fine internal heater to keep the coffee hot and fresh for up to four hours. You can brew 4-6 cups once in the morning and use them later in the day as there is no carafe to pour, break or spill as well as no hot plate to add burnt flavor in your beverage.
It is easier to clean than a conventional carafe as it has a detachable and washable water reservoir and drip tray. To get a pretty mug of coffee right after you wake up or early in the morning before going to an office, etc. just set it up in the night before.
You can prepare coffee according to the situation and mood as it has the option for both hot and iced coffee to refresh your mind.
The programmable settings have auto-on and auto-off features to assist you, as everyone is busy in the morning and finds no time to stay with it. It does not occupy counter space and you can easily adjust it in a cabinet, along with other kitchen appliances.
A removable water reservoir allows you to easily fill and less spilling on the counter and dispenses one cup at a time to ensure almost no dripping. The exterior is black to make it useful for every community, either they stay at home, go to an office or have some commercial businesses.
You press a lever, and it fills your cup with mouth-watering coffee with the blink of your eyes. Although long travel mugs cannot get full easily it is also possible with the adjustable bottom tray.
To avoid any inconvenience, a detailed user manual is also given with the pictorial description of each function.
5. Hamilton Beach Coffee Maker 48465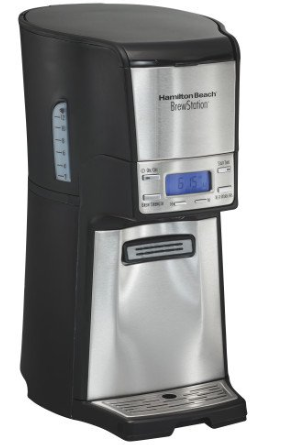 This Hamilton series has proved excellence in price to performance ratio. It is well equipped with great features. Its stylish and easy-to-use design is liked by everyone.
If coffee is one of your most favorite beverages, and you are looking forward to an excellent brew station to brew fresh and hot for every time you need, then this coffee making machine is going to be your best partner. You will have an amazing experience with this.
Special features
It has a charming big brew station that brews up to 12 cups of flavorful coffee for you within a short period. The programmable settings allow you to set it up once and it will automatically prepare coffee for you without standing next to it.
The enclosed efficient internal heating system not only brews your favorite drink for you and a larger tank stores it for the rest of time.
You just have to press the lever and it will fill your cup with warm and tasty coffee. It has brought another exciting feature which is its fitness for travel mugs also along with the normal cups. Many coffee makers that do not facilitate travel mugs. It has a large distance between dispenser and bottom tray and henceforth the travel mug can be adjusted easily.
It directly dispenses coffee into your cup once at a time without a glass carafe or a hot plate.
The black brushed-steel exterior makes it adjustable at any counter either it is a kitchen counter of home or an office.
It is not complicated to operate and use as well as it is very easy to clean because of the removable water tank and drip tray. They are both washable and replaceable.
This brew station also has some other customizable brewing features like an option to choose whether you want to drink hot or iced-coffee, bold, regular, small batches, etc. It sounds when coffee is ready. Press-to-pour levers perform well to save time.
6. Hamilton Beach BrewStation Coffeemaker 48463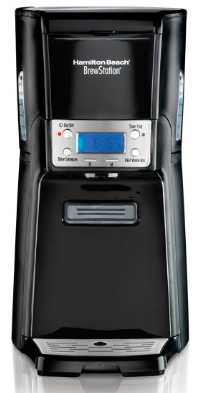 Hamilton Beach has continued its legacy of making easy and innovative electronic devices to make lives easier. It is one of the best-selling traditional automatic drip brewers and has amazing features with 5 years of warranty.
Special features
This brew station is programmable for brewing 12 cups of pretty good coffee at a time and lasts hot and fresh for up to four hours. It does not use a carafe and no hot plates to keep the coffee warm and scorch your coffee's flavor.
The internal water reservoir can be easily detached from the body to fill the required amount of water in it before brewing and is washable. The bottom tray is also easy to remove and clean.
It is designed to prepare 12 mugs of your favorite coffee at a time as it has an efficient internal heater system. You can dispense one mug at a time and remaining brewed coffee will be stored in its larger tank for later use to refuel you whenever needed.
You will love to have it on your counter as it brews coffee according to your mood. If you would like to have 1-4 cups of hot coffee, it will brew the same or you can set it up for regular or bold fresh iced coffee.
Add water, filter, and your favorite ground coffee 24 hours in advance and set it up for morning coffee. When you get up, it will be ready to put in the mug.
You can pour yourself a flavorful mug of coffee even while it is still brewing.
The stylish black exterior and slim body rank it on the top when it comes to an office or at other commercial places along with the home usage. You will be happy to know that it does not occupy counter space and is easily adjustable with other kitchen appliances in cabinets.
Additionally, it has a blue backlight programmable LCD clock, an illuminated auto-on and auto-shutoff switch, semi-transparent coffee level window, non-slip dispensing unit and a detachable cupcake filter basket to ensure fast and versatile brewing with peace.
Closing Remarks
You have read in this article that the best Coffee Maker without Carafe can save time and energy.
Whenever you decide to buy a coffee maker, just stay away from Carafe and read the product description carefully before adding it to the cart or in the shopping stores. Every machine is well-equipped with some outstanding features. You are supposed to choose wisely according to your need.
For example, if I have a busy schedule in the morning and find no time to stay in front of the brew station for having a hot and fresh cup of coffee, then I will choose Cuisinart DCC-2000. Coffee-on-Demand 12-Cup as it has multiple illuminated auto-on, auto-shutoff, an efficient internal heater and a broader brew station.
In the same way, if you want a coffee maker that keeps coffee hot and fresh even when you are travelling then go for Hamilton Beach Coffee Maker 48465 etc. It does not only brew good coffee but keeps it warm and flavorful for up to four hours. I hope you will find this article helpful while selecting a coffee maker. Do let me know if you have queries. I will try to respond to you shortly.