Are you studying at a college right now and have 3-4 cups a day's coffee requirement? Do not spend a lot of money and move here and there in search of a delicious mug of coffee. Manufacturers have released Best Coffee Makers for College in the market.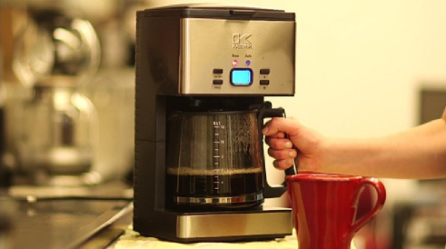 You can keep them along with you all the time; either you are traveling, living in a dorm room, at an office or at the kitchen counter to starve your coffee cravings. You do not need to stick to traditional large coffee makers.
Choose them wisely by relating these two words, Coffee and College. But all of them should have the following features.
Single Serve Coffee Makers For College Students
They should have a smaller and an efficient brew station, most of the time, confined to only one cup so that you may carry it all the way.
Durable and Stylish Body
When you decide to buy it, just make sure it has a compact and well-structured exterior. It ensures its longevity.
Specifications
Read the product description and product reviews carefully before making an online order or in-store shopping. Check either it is fulfilling your demands or not.
For example, for avid travelers, the priority will be lightweight and an outstanding internal heater system but for a housewife, it may be a coffee maker having 12-cups capacity.
Automatic Functions
It should have some automatic features to save your time and energy, like auto-on, auto-off, etc.
Keep reading the article, and you will be the best coffee maker for you.
1. Hamilton Beach (49981A) Single Serve Coffee Maker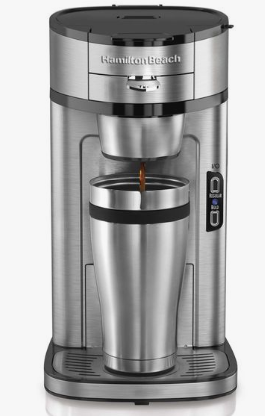 It is one of the most demanded single cup coffee makers for those who used to live alone mostly or need a single cup of hot and delicious coffee in the morning to kick-start their sleep. This single-serve coffee maker offers a variety of love-able features for your daily use.
Special features
It has a compact Stainless steel body to ensure its longevity. It brews as much faster as you can imagine; in just only 90 seconds, one mug of hotter and extremely flavorful coffee will be ready and for two mugs only two and a half minutes is required.
A steel made mesh scoop allows adding a flavor of your own choice, (i.e. caramel, vanilla, etc.) as well as to ensure no entry of residues of freshly ground coffee in your mug.
An adjustable at the bottom flips to facilitate you to adjust a normal-sized cup or travel mug. You do not have to spend time in front of it as it has auto-on and auto-shutoff customizable built-in program settings. It is durable, easy to clean and use.
Additionally, it does not use a pod and measures the exact proportions of coffee. You can set it up whether you want a regular mug or a bold one to refresh your mind.
Above all, it is budget-friendly and you do not need to spend a lot of money to refuel you at your college or in the dorm. Buy it once and enjoy a mouth-watering cup of your beloved beverage wherever you want.
2.CHULUX Coffee Maker Single-Serve Coffee Machine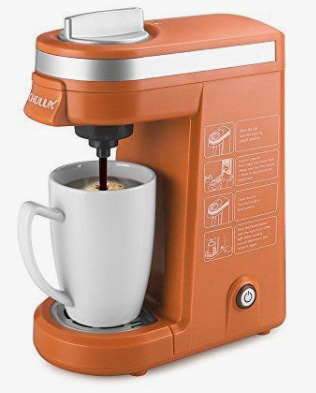 It is a single cup coffee making machine for those who love drinking it solely many times a day either in the dorm, living room, office or in the kitchen. You do not have to spend money at coffee bars having a mug of your favorite beverage. Buy it your own and you can enjoy 4-5 cups of pretty good coffee a day.
Special features
The small, compact and stylish black exterior fits everywhere and you will have no problem in its adjustment. Its well-structured internal heater brews a cup of coffee only in 2-3 minutes.
It is very easy to use and clean, you just have to clean it once a week with running water or vinegar only through a brew-cycle. This lightweight and durable brew station has an illuminated auto-on and auto-shutoff features.
Along with them, there is also an additional light reminder built in which becomes functional during each brewing-cycle. The reusable coffee filter maintains water purity in the internal water reservoir.
The best K-Cup Maker has versatility in its use. It has multiple color options, just pick out the one which you love the most. Sometimes, you need an extra energy punch which a regular or a bold cup of coffee cannot give; this machine works best for you by brewing a dark roast mug quickly.
It has a removable and washable drip tray. If you are planning for a short-trip or camping, this space-saving brew station perfectly fits into your travel bag and you can have a mug anytime.
3.Espro Travel Coffee Press Stainless Steel For College Students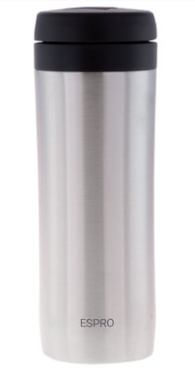 Are you a college student and want coffee in the morning to say good-bye to sleep? Be grateful because the best espresso machine for college students is on the way. It is designed to energize coffee lovers who keep moving all day. For college students, it is budget-friendly.
Special features
It is an excellent portable coffee making machine having a capacity of brewing a single cup at a time.
The double-walled stainless steel insulated vacuum keeps the coffee hot and refreshes for 4-6 hours. Two-micro filters are also built-in to ensure flavorful and girt-free coffee into your mug.
You just add water and ground coffee into it, in return, it gives you a hot and delicious mug of coffee within minutes.
It is designed for both coffee and you can customize its setting according to your mood. The stylish sleek machine has a black normal mug like the exterior, but when you open inside it, magic reveals. The spill-proof plunger does not allow sipping and has a tight screw on the lid to make sure no leakage.
It is a 2-in-1 machine, having a combination of a travel mug and a portable French Press. For a morning person, who cannot manage to take a sip at home due to having the rush of morning tasks, can brew just and enjoy it later without any change in temperature and flavor.
Additionally, you can use it in your college as well. You only need a mug of hot water and some ground coffee.
4.Cuisinart DCC-1150BK Thermal Programmable Coffeemaker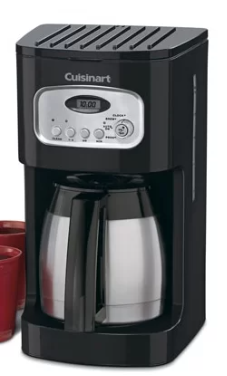 If you are looking for a classic stainless steel coffee maker having more capacity and advanced features as well, then it is the best option to consider as it has amazing features to make your favorite beverage tasty and warm.
Special features
It has 24-hours automatic programmability which means that you can set it up 24 hours before brewing; it will start automatically and brew coffee. When it is brewing, it gives an illuminated reminder for brewing, and when brewing is finished, it automatically shuts-off to save electricity, energy and time.
The sleek design has stainless steel double-walled insulated thermal carafe which can brew up to 10 cups of hot and tasteful coffee even if it operates with a carafe.
It keeps coffee as hot and flavorful as it was at the time of brewing for hours. It beeps when the coffee is ready and you have no need to stay with it from start till end. Just set it up and it will do everything for you as you have commanded it to do so. It has a Charcoal filter paper to ensure water purity in the internal water reservoir.
The glass carafe has a hollow plastic handle for easy filling into the cups without burning your fingers. You can dispense coffee from the brewing tank when it is still brewing.
You can measure the right amount of ground coffee with the help of the coffee scoop. It also has a gold-tone filter which ensures girt-free coffee into your mug.
5.Cuisinart DCC-450BK 4-Cup Coffeemaker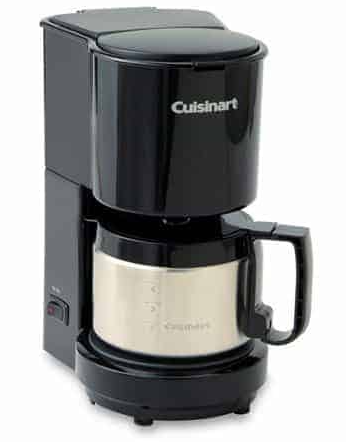 Do you and your dorm roommates love having a mug of coffee to get rid of drowsiness in the morning and wait for minutes at café for having a mug of it? I have a better solution to save your time and money. You can purchase the best coffee maker for the college dorm room once for all.
Special features
It can brew 1-4 cups at a time. You just have to customize its automatic settings 24 hours before according to your college schedule. It will automatically brew hot and delicious 4 cups of coffee before you and your dorm roommates get ready.
Detach the carafe, fill your cups with mouth-watering coffee and say good-bye to sleep. You can also brew it for yourself only if you need more than one mug a day, brew it and take it with you in a travel mug for later use.
It has double-walled insulated stainless steel carafe with dripless pour spout and a knuckle guard to ensure spilling-free coffee into the cup. You will love knowing that it has an-auto and a 30 minutes auto-shutoff built-in system to keep you tension-free and relaxed.
An amazing new feature is brew-pause. It means that you can enjoy coffee in the middle of a brew-cycle. It sounds when brewing is finished and shut off.
It will not let you down as it has a well-designed and durable exterior and is adjustable because of its compact size. Additionally, it is easy to clean and use.
6.Single Serve K Cup Coffee Maker for K-Cup Pods by Gloridea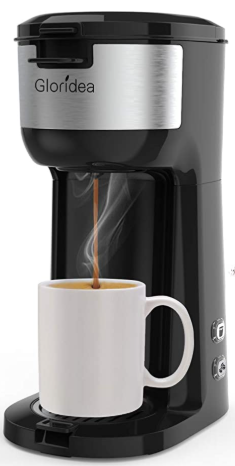 It meets your all brewing needs. It is a single-serve coffee maker for a dorm room to facilitate them with pretty good coffee anywhere anytime.
Special features
It has a fast and efficient brewing system that allows you dual brewing options. You can choose to brew a K-Cup Pod or ground coffee beans according to mood swings. This novel coffee maker has 2 button options for your choices.
The fastest and easy brewing system brews a mug only in 3 minutes. You just have to fill its tank with water, add ground coffee beans or K-Cup and it will be ready quickly.
You can easily control your coffee strength either you want a strong and dark coffee or want to save expensive grounds with the help of water adjustment function. Add more or less water of your choice as the exterior has calibrations.
It makes the coffee you like. When you are in a hurry, brew a small cup or if you are busy with a book; make some more coffee, remove the bottom tray, hot and delicious coffee is all set to be filled in your mug.
It is a space saver coffee making machine. The slim and compact body fits everywhere either in tiny house kitchen counters or at any commercial place.
Additionally, it has amazing built-in functions. It has the auto-clean option, auto-on, and auto-shutoff for safety, detachable water reservoir tank to ensure quick and easy cleaning, reusable filters for purity and above all its affordable price for all.
7.Dnsly 2 in 1 Coffee Maker Single Serve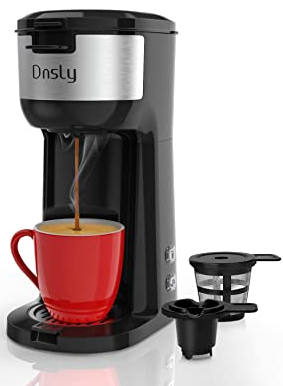 College life is not easy to manage. You need an energy punch every time to create stability which can be fulfilled by a natural energizer (i.e. coffee).
It is one of the best single-serve coffee machines for college students who need coffee to starve their sleepy and drowsy distractions.
Special features
It has accurate calibrations on its exterior to adjust brewing strength. Add much water as you want in the internal water reservoir and add some ground coffee also to get a pretty good coffee of your choice.
It has an auto-on and auto-shutoff programmed setting to save time and electricity consumption.
To maintain its proper functioning, it has an auto-clean feature. It also has a durable and small-sized exterior to make sure its fitness in every community either in the hotels, offices, houses or other workplace.
It works very efficiently and quickly. You can have a flavorful mug of coffee just within three minutes. As well as, it offers dual brewing styles according to your mood. Most of the time, you energize yourself by drinking a regular mug of coffee but sometimes, you want some change like K-Cup, etc. You can brew according to the situation.
The removable water reservoir allows easy water filling directly from the faucet. It is a single-serve coffee make.
You can fill large coffee mugs with the removable drip tray. Detach the tray from the body, fill up the mug and get lost in its magic. Additionally, it has a coffee measuring scoop to measure right the proportion of ground coffee into the brewing tank.
8.Single Serve Coffee Maker for K-Cup Pods by Sboly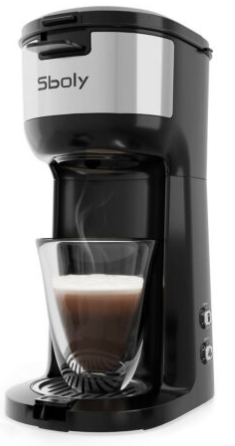 It is a perfect single-serve coffee maker for dorm room dedicated coffee fans or for those who used to live alone and coffee is their favorite beverage.
Special features
It is a 2-in-1 coffee making machine as it offers you more than brewing styles. You can use either a K-Cup pack or a regular hot and flavorful mug of ground coffee beans.
The exterior is made of good quality plastic with a stainless-steel top cover. It has a stylish and compact body that fits everywhere whether it is an office cabinet or a home kitchen counter. You just have to fill the water reservoir manually and some ground or K-Cup, the machine will do the rest of the work; from starting till brewing.
It brews a single cup at a time, so you can enjoy perfectly hot and tasteful coffee every time you brew. The brewing of a mug just takes three minutes.
The water adjustment feature allows you to keep the perfect proportion of ground coffee and water. If you want a dark and strong cup, use less water and more ground coffee and vice versa. It has a modified basket filter built-in feature with a lid on it. This basket makes sure girt-free and purely brewed coffee into your mug.
Cleaning and maintenance of appliances never had been an easy task but this brew station has made it possible for you. After brewing has finished, just press 2 auto-clean buttons and it will automatically do the same. It also has an auto-shutoff feature.
9.Nespresso VertuoPlus Coffee and Espresso Machine by Delonghi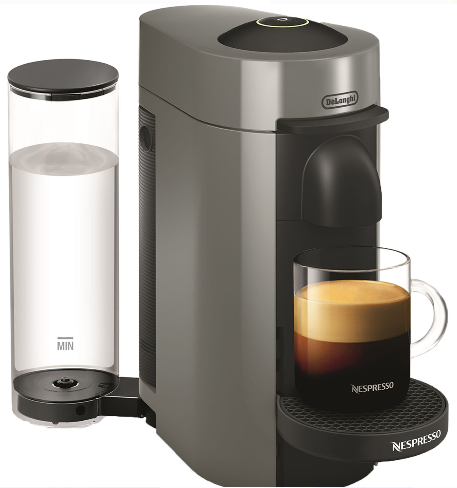 Do you want to have Starbucks coffee especially when it comes to tasteful and caffeine-rich mugs at your home or workplace? Nespresso has introduced an innovative perfect single-serve coffee making machine that meets your all requirements.
It is a sign of the best quality and tasteful coffee.
Special features
You can brew a full-size coffee mug for having some extra energy. It has a large internal water tank and variable pods came with the machine to help you find the best flavor which you love the most.
It is an automatic coffee or espresso maker. You can have an espresso cup experience with an all-new Nespresso VertuoPlus feature with no time.
To brew a delicious mug of coffee; you just have to press the open button, the lid lifts; add coffee making ingredients like some ground coffee and water, shut down the lid and press the button again. It will perform the rest of the functions.
It dispenses a single cup of freshly brewed regular coffee or an Espresso mug at a time so that you can have time-to-time fresh and delicious milky froth enriched coffee mug. It uses only Espresso filters. Insert the capsule and enjoy a quickly brewed normal coffee cup or a mouth-watering Espresso.
You may want an iced coffee to refresh your mind. It also brews your favorite iced coffee drinks. Each machine has a complimentary gift including a welcome kit with a wide range of Vertuo capsules and aroma rich profiles.
10.Keurig K-Cafe Single-Serve K-Cup Coffee Maker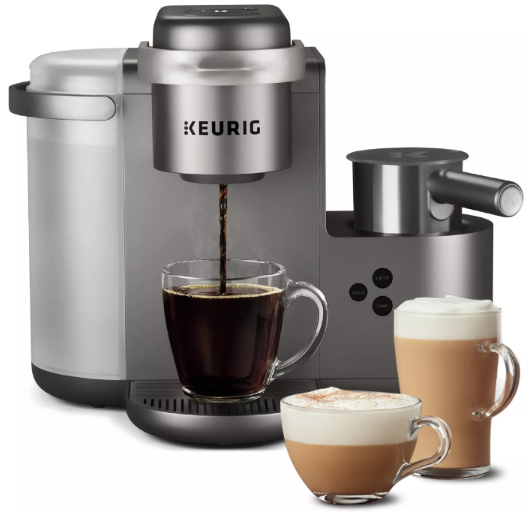 It is an amazing and one of the cheap coffee makers for college students who often rush to the nearest coffee shops for having a variety of coffee tastes and styles.
Special features
It offers you multiple brewing options. You can either brew a normal hot and delicious cup of coffee, freshest iced lattes for milky froth lovers or strong cappuccinos. Just insert any K-cup and customize settings, it will brew your favorite drink quickly.
The large 60-ounce water tank can brew up to 6 cups of coffee to save your energy and time to make your morning time productive. The detachable water reservoir makes water refilling easy. You can either fill it up directly from the faucet or through a water pot.
It has an efficient and smart brew station as it does not pre-heats like other traditional coffee makers do and brew quickly. The well-designed internal heating system does not lose heat quickly and remains hot and delicious for a long time.
It is also an energy-efficient coffee making machine as the brewer automatically shuts off two hours after the last brewing to save energy consumption. You will love knowing that it is a travel mug friendly.
The removable drip tray accommodates you to fill larger travel mugs also. Additionally, it has brewer maintenance reminders to remove built-up calcium deposits (descaling). It works best even on high altitudes, you can take it with you if you are camping or planning a trip.
Final Words
College life is not as fantastic as it seems in movies or stories. You have to maintain stability between social and academic life while taking care of health also. By keeping all these factors under consideration, companies have released the Best Coffee Makers for College.
All the above makers have some unique features and stylish designs. Of course, you cannot buy them all, that is why I highly recommend you to make a detailed search before buying and pick one which meets your demands.
For example, I used to drink coffee alone and want a wide range of tastes, so I will go for Nespresso VertuoPlus or if someone wants coffee during trips or camping nights, then Keurig K-Café and CHULUX Coffee Maker will serve the purpose, etc. Do let me know your choice by commenting in the comment box below.